CSC News
August 06, 2020
From Gadgets to Google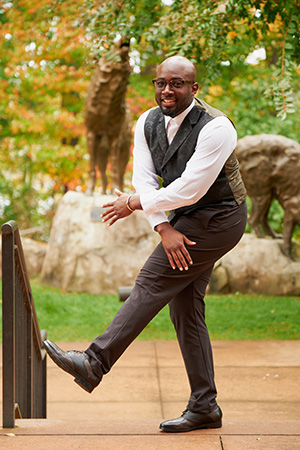 Ever since graduating from NC State in 2013 with his Bachelor's in Computer Science, KaMar Galloway has been leveraging his degree, experiences, and passions to innovatively help students and teachers by creating impactful projects to bring about change in education.
Galloway has always been fascinated by the inner workings of technological devices- it's what inspired him to go into the field of computer science. A native from the beautiful island of St. Croix, Galloway was first intrigued by the Super Nintendo, a popular 90's video game system. When not eating sweet plantains, he would marvel at the gameplay and storytelling behind Donkey Kong Country. "I would play for hours on end!" says Galloway. His intrigue for video games continued as he got older and moved onto more modern consoles. He fondly remembers flipping through Circuit City ads in the newspaper as a young boy and wanting to understand how a gadget, like an Xbox, worked.
Galloway's curiosity followed him to NC State. During his time as an undergraduate, he, along with friend and NC State CSC Department Alumna, Khalia Braswell, worked under Dr. Fay Cobb Payton to create MyHealthImpactNetwork. This is an interactive website that focuses on health care issues and disparities that target Black female college students, in particular, and college-aged students, in general.
Galloway was also heavily involved with the STARS Computing Corps, an organization which he states had a significant impact on his career path. STARS aims to foster meaningful relationships between student mentors from the NC State Computer Science Department and under-represented children in the local community to promote the message that all children can be computer scientists. During his time with STARS, Galloway mentored students from a school in Durham. He and his team worked together to produce fun and innovative lessons to teach the students how to think and code like computer scientists.
One Saturday a month, the school would bring their students to NC State's campus to participate in hands-on activities like building a website using HTML or using Lego Mindstorms to code robots.
"For me, it was fun because I was able to take what I was learning in my classes during the week and scale it down to a place where middle school students could understand the basics of computer science," says Galloway.
Perhaps the most meaningful aspect of STARS was the students. Through STARS, they were not only given the opportunity to learn about the many applications of computer science, but were able to see that college was an attainable goal, and that they could succeed in the field of computer science.
After two years of serving as a STARS mentor, Galloway was asked to take on the role of the Lead Coordinator. This was a pivotal moment in his life as it began to propel him toward pursuing a career in teaching kids computer science.
After graduating from NC State, Galloway joined Google's Computer Science Teaching Fellows, a two-year program with the goal of teaching children computer science skills. During this time, Galloway chose computer science and technology education as his path forward.
"I realized that this was a space I had a lot of expertise in because I was able to grasp difficult concepts as a college graduate and make them fun and engaging for kids. I really wanted to focus on the teaching aspect of computer science because it was fascinating and it was a growing field."
When Galloway finished his time as a Computer Science Teaching Fellow, he continued his career at Google by helping to establish the CS First program. The focus of CS First is to teach elementary-age children how to program using Scratch, a platform that uses drag-and-drop blocks to create code, all while leaning into students' interests such as music, fashion, and sports. Building the curriculum around these interests ensured that students were able to see how computer science might apply to their own lives and passions. Now the program has expanded into formal education subject-areas, like English Language Arts.
After CS First, Galloway continued this computer science education trajectory, with the goal of supporting students as they moved on to middle and high school. At first, his team began planning to establish a new program for older students that used text-based programming. However, his team began to realize that many students lacked digital literacy skills.
"We felt like it would be a missed opportunity to skip over students that weren't taught those skills and jump right into computer science...Not every kid will go on to pursue a career in computer science, but all kids should have the basic digital literacy skills to be successful in their careers and life."
This led to the establishment of the Applied Digital Skills program, which aims to teach kids how to use digital applications to better their lives. This program specifically focuses on creatively teaching kids basic digital literacy skills on a computer. These skills include managing a budget in spreadsheets, organizing information through presentations, and many others. "One of my favorite lessons teaches students how to analyze an online scam to identify warning signs and follow best practices to stay safe online," says Galloway. In the lesson, students get to choose their own online scam to analyze. As an avid sneaker collector, Galloway shared his own example of being scammed while reselling a pair of sneakers online to connect the lesson to real-world experiences.
"Not only do students walk away with digital skills, but they also learn practical life skills along the way." Besides creating the curriculum for the Applied Digital Skills program, Galloway has even had the great opportunity to star in some of the videos! You can check it out here!
Applied Digital Skills is a free, video-based curriculum that prepares students of all ages for careers that require basic digital skills through hands-on problem solving and collaborative lessons. Teachers can use this curriculum in their classrooms as a supplement so students learn these practical life skills without having to rely on a standard textbook. Students can watch these videos at their own pace and are given real-time practice. Especially now, during the COVID-19 pandemic, Applied Digital Skills supports teachers and provides students with free and easy-to-use resources.
Recently, as part of Google's commitment to deepening its impact in the community, Galloway is leading a project to reach 400,000 Black students around the country affected by racial inequalities in education. The Applied Digital Skills program will play a huge role in reaching Black students specifically, so that they can be supported and successful in their academic and career endeavors.
Galloway is always looking to better the lives of students, which is quite evident in the projects he takes on, and the legacy he's leaving at NC State. "Giving back to a university that gave me so much will hopefully encourage other alumni to give, and will encourage the university to expand its commitment to the Black community."
Because of his commitment to creating a safe place where all students, young and old, see computer science and technology as a viable and exciting career, Galloway was recognized by the NC State Computer Science Department as one of six Outstanding Young Alumni during the inaugural CSC Alumni Hall of Fame induction in 2017.
"Many of the kids entering elementary school will work in jobs that don't exist yet. In fact, tomorrow's jobs will allow greater flexibility in picking your schedule and choosing where to work. That's a scary scenario -- not knowing how to prepare for an ever-changing world! I'm encouraged and motivated to help kids build their capacity to learn new digital skills and be a part of the future!"
~snyder~
Return To News Homepage