These computer science students are using technology to educate and inform peers on health-related issues.
"Field of Dreams", a popular movie in the late 1980's, coined the phrase "If you build it, they will come," meaning that people don't realize they want or need something until it is right in front of them. Today's most relevant way to build a field of dreams is to integrate technology into subject matter, which is just what NC State computer science students Khalia Braswell and KaMar Galloway have done. Their collaboration with Dr. Fay Cobb Payton on a critical healthcare outreach effort is changing mindsets, increasing communication and bringing people together to talk like never before.
Payton, associate professor of Information Systems at NC State, recognized a troublesome trend in minority college students with regards to staying educated on HIV/AIDS. Because of the divide she saw, Payton enlisted the help of Braswell and Galloway, to create her own field of dreams, known as
myhealthimpactnetwork.org
. The interactive health website focuses on health care issues and disparities that target Black female college students, in particular, and college-aged students, in general.
"The ability to make real-time change in a community is really exciting and meaningful…"
Payton suspected that the stigma associated with the disease had an impact on the problem of educating women on the disease. To combat this issue, Braswell and Galloway brought in their expertise of communicating with students of their generation via technology. With their insight into the target population and their experience with social change through the use of social media, the project took on a relevance that was a perfect match for the group they were trying to target.
"When we started putting the site together, I figured people would want statistics, but from our data-gathering sessions, we found that people really wanted testimonials from people with this health issue," said KaMar Galloway. "If someone can identify with another person's experience, then the numbers really don't matter as much."
Braswell readily agreed.
"We knew the impact that social media has on social change and we wanted to engage the students through the website," she said. "We initially thought that because of the subject matter, people might be hesitant to participate, but we found through the blog portion of the site that people really responded to other's experiences and concerns."
The team's goal was to put highly relevant messages out in the most current and popular forms of communication among their targeted group, in hopes that the information would impact behaviors and promote prevention. The team found that most Black college-age females found current HIV/AIDS websites to be either stereotypical or too heavily written in medical jargon.
"The common complaint we heard was 'I don't see me' when researching HIV/AIDS websites," Payton said. "They felt that Black women were being depicted as sex workers or drug abusers and this is not representative of their population."
Not only was the current information not representative of the population the team was trying to reach, they also found that there were many social barriers keeping the population from effectively educating themselves on the issue, such as pressure from family, the faith-based community and even a mistrust of the health care community.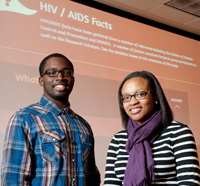 So with social and cultural stigmas attached to this disease, how did the students seek to break down such well-entrenched barriers?
"We have connections to the students who are using the site," Braswell said. "They know us and trust us and are interested in reading about what we are blogging about, which is very timely information about HIV/AIDS. We write about real experiences that are happening to people we know. Because they know us, they are having the courage to ask for more information and to tell us more of what they need to see on the site to help them make good decisions."
Both Braswell and Galloway have been so impacted by the response the site is receiving that they are shaping their future career plans around this experience.
"I personally manage other social media sites for other organizations and I am anxious to see the social change that comes through spreading awareness and education through this website," she said. "This experience has really helped me plan for my future working on social media strategies, particularly in the nonprofit, healthcare field.
KaMar Galloway's experience with the project has changed his career trajectory completely, he says.
"I've always been interested in seeing how social media can be impactful," Galloway said. "I've done internships in larger corporations but I haven't seen this big of an impact until we did this website. We have experienced real time social change by developing this site for college students."
Galloway has also been impressed at how myhealthimpactnetwork.org has made its mark on other aspects of healthcare for students besides HIV/AIDS.
"If you are not playing Division I sports, college is a period of time where health goes by the wayside," he said. "This website doesn't just provide statistics on health issues. It provides testimonials from people experiencing these health issues and gives them support, while also educating those who read about their experiences."
Because of his hands-on experience, Galloway is rethinking his plans following graduation.
"I think human-centered computing is such an important new field, to be able to combine the technical and social service field together is really fascinating," he said. "Because of this experience, I am really thinking about creating my own start-up company in the medical technology field. The ability to make real-time change in a community is really exciting and meaningful, much more so than working for a large corporation."
Follow the project on Twitter @myhealthimpact or contact Dr. Payton at fay_payton@ncsu.edu.