CSC News
October 17, 2017
Department Launches Alumni Hall of Fame
As part of the department's 50th Year celebrations, the Computer Science Alumni Hall of Fame was officially launched during a special ceremony held at the Park Alumni Center on Thursday, October 12th. The event was attended by more than 120 faculty, staff, award winners and their family and special guests.
The CSC Alumni Hall of Fame was established to celebrate and recognize the exemplary contributions our outstanding graduates have made to their profession, their community, and to the world at large.
Award winners were presented a specially designed award to take home and they will be featured on a permanent display wall on the 3rd floor of EB2, near the department's main office. The wall features an interactive component that is also accessible online (http://ncsucsc.touchpros.com/SearchBy.aspx).
The 2017 CSC Alumni HOF inaugural class consisted of 25 highly accomplished alumni inductees, including: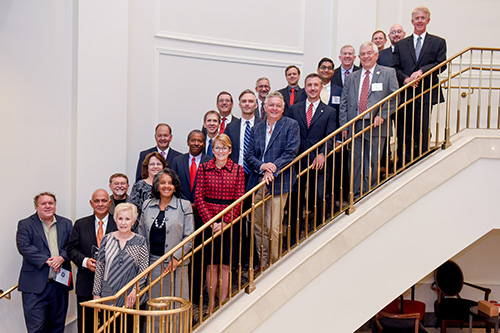 In addition, the department recognized six Outstanding Young Alumni including: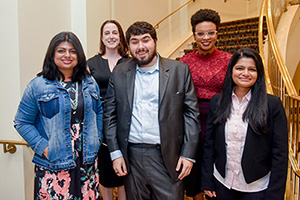 Dr. Laurie Williams, interim department head, says "This is an exceptional group of individuals who have all, in some way or another, impacted our lives in a very positive way." She adds, "By recognizing our most distinguished alumni, we hope they will serve as an inspiration for current and future students."
Ken Tate, director of engagement & external relations, says the inaugural class is very special. "We had about 50 nominations and they were all outstanding candidates, but the 25 inaugural inductees were all unanimous selections by the selection committee. They represent the very best of the best," says Tate. But he adds, "With more than 9,000 alumni scattered all over the globe, we don't know about everyone's accomplishments!"
The auspicious occasion was made possible thanks to the generous support of sponsors, SAS, Dude Solutions, the ePartners Program and the NC State Engineering Foundation.
Photos of the event can be found here.
To nominate someone for future consideration, please visit the CSC Alumni Hall of Fame page.
~tate~
Return To News Homepage