Alumna Tanya Markow is following her dreams… all the way to the moon!
Remember the Army's slogan "We do more before 9 a.m. than most people do all day…"? Translate that concept to doing more than one person can do in a lifetime and you have an idea of the life of U. S. Army Lieutenant Colonel Tanya Markow (M.S. CSC 2004).
A 17-year veteran of the military, Markow holds an undergraduate degree in mechanical engineering from West Point. She also has a master's degree in Computer Science from NC State University and a Ph.D. in Human-Centered Computing from the Georgia Institute of Technology. She was in one of the earliest classes of women to qualify to fly the Apache helicopter and was the third woman in history to serve as an Apache helicopter instructor pilot. She has taught Computer Science at West Point, managed the largest airfield in Kuwait, served as a battalion officer, a platoon leader, and even holds the distinction of being the mother of a talented young daughter who is quickly following in her footsteps. To top it all off, she has her sights set on becoming an astronaut.
How did Tanya Markow come to accomplish so much in her lifetime?
"I've been really lucky that I have had a lot of good opportunities," she said modestly. "But I was always a big dreamer and never held back on those dreams. I decided I wanted to become an astronaut at age seven and I even have my application submitted for the next opportunity for selection in the space program."
"Shoot for the moon and if you miss, at least you'll hit the stars… For me it's been a wild ride. It's not been easy, but the rewards are worth all the work."

Dreamer aside, Markow is also made of tough stuff, as she has had to make her way in a traditionally male-dominated career path. In fact, she experienced firsthand the progression of the acceptance of women in the combat zone.
"In 1991, the combat exclusionary rule was still in effect and women couldn't be in a direct combat role until 1993," she said. "I was in the earliest group of women who were allowed to fly attack aircraft," she said. "I really had to prove myself and many of the male soldiers were openly hostile. You really have to strive for excellence in order to earn the respect and acceptance of your male peers if this is the role you want to be in for a career."
Throughout Markow's career, the transfer of knowledge has been a common thread in her roles as battalion leader, flight instructor and computer science professor. Her success as a leader has been shaped by not only her personal drive, but her attainment of education as well.
"At NC State, I worked with Dr. Tom Honeycutt, who specialized in process improvement," she said. "My graduate work was the development of the Knowledge Maturity Model, where we studied how to capture and transfer information most efficiently among members of an organization. Its purpose was to ensure that the knowledge transfer would be seamless even if an organization member was no longer part of the team."
Markow's transfer of knowledge has made a great impact on the ability of soldiers, the safety of our country and even the formation of future generations by being the role model she has been to her daughter Morgan. Having to deploy for one year when her daughter was only seven, Markow had the hard responsibility of transferring important knowledge to her daughter so she would understand why her mom had to leave for such a long time.
"That was the hardest thing I ever had to do, because we are extremely close," Markow remembered. "But I have always talked to my daughter like an adult, so I explained what I was doing and why I was doing it. I gave her the information she needed to understand my commitment to serve and now she even wants to serve herself. When you tell your kids that you are working to protect their freedom, those concepts are not lost of them. She knew that I loved her and she understood the importance of what I was doing for her."
Not only does Morgan understand the sacrifices her mom makes for her country, she has witnessed firsthand the process of obtaining higher education and the positive impact it has made on her mom's career.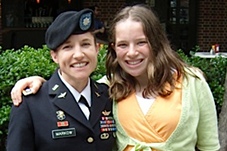 "Morgan was two when I was getting my master's degree and she was sitting in the room with me recently when I defended my Ph.D. dissertation," Markow said. "She is so aware of the possibilities that are out there for education that she already has her eye on a space science master's program at the University of North Dakota!"
For those under Lieutenant Colonel Markow's direct instruction, it is a no-brainer as to what the gaining and transferring of knowledge can lead to in life's journey. But for those who don't have the chance to talk with her firsthand, what would her advice be?
"Shoot for the moon and if you miss, at least you'll hit the stars," she said, reflecting on her passion for space. "For me, it has been a wild ride. It's not been easy but the rewards are worth all the work. "
As for those who imparted their knowledge on Markow, what would she say to future students when choosing a program that is right for them?
"What jumped out at me about NC State were the research and the professors," she said. "I always tell grad students to read the bios of the professors because you will be doing research with them. NC State is doing very pertinent research that has implications right now to improve people's lives and that has impacted me greatly in my career."
Transfer of knowledge successfully completed!