Save a life...It's possible with a degree from North Carolina State University's Department of Computer Science

When computer technology and medicine cross paths, big things happen. Things that can change the world—and save lives.


Meet David Cox. He's a 2010 PhD graduate from the NC State's Department of Computer Science—and he's already making an impact on modern science. As part of his research, Cox developed a program that visually represents a DNA sequence that helps biologists better understand patterns that can lead to cancer or other genetic disorders. It's important work. And it's happening right here at NC State.
It's my ideal situation to do research and develop software that has practical value.
Cox has a personal motivation for his research: his wife is a kidney pancreas transplant recipient. Her ordeal has sustained him throughout his studies—and it inspired his drive to help improve DNA research.

"I've always had it in the back of my mind that I wanted to make a difference," he says. "It's my ideal situation to do research and develop software that has practical value."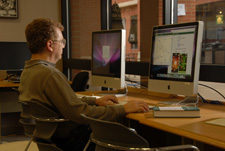 Cox attributes part of his success to the stellar instructors at NC State. He says they guided him and helped him understand what it means to do research—real research that can lead to real results.

"I learned that it's not just research you conduct on your own," he says. "It's collaboration and sharing information with other people. Those are areas I wasn't well versed in before I got here."

While obtaining his PhD, as if being a student wasn't enough, Cox also worked full-time. His company maintains a corporate research center on NC State's Centennial Campus, located across the street from where Cox attended class. That means he not only benefited from the free exchange of ideas between work and school, he also had a quick commute. About as long as it takes, say, to boot up a computer. After all, Cox has more important things to do. Like making a difference in our lives—and his.