Seconds on the shot clock aren't the only time management issues this student athlete faces
Time management is the key for NC State women's basketball player Brittany Strachan. A busy student athlete who can spend more than 70% of her time on basketball, Brittany says, "I have to use my time wisely throughout the day. When I'm not in class or in practice, I work on my assignments. I'm kind of a night hawk so I stay up late and get a lot of my work done then."
Academics are very important to Brittany. Basketball and curriculum played equal parts in her decision to attend NC State. Her parents, both graduates of NC State, have instilled in Brittany a clear sense of being a student first.
"There is a lot of help out there. The professors are eager to help; to make sure you can get everything done."
"I certainly had to keep recruitment in consideration… basketball was an important factor. But I also knew that NC State is a top engineering school." The research-based focus of the program, the reputation of the professors, and the access students have to research opportunities are main reasons Brittany chose to pursue a computer science degree at NC State.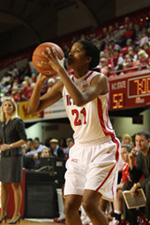 Brittany first considered computer science when she was in high school. "It was my sophomore or junior year and I took a computer applications class. We were working with HTML. Seeing the web page I created… that really excited me. I knew I wanted to go into software development and see what else I could create."
Being on the basketball team and part of a challenging degree program, Brittany credits her success to all the support she receives and the campus resources. "There is a lot of help out there. The professors are eager to help; to make sure you can get everything done. I don't know how anybody could do all this alone."
This dedication to academics lead to Brittany being selected to the ACC Women's All Academic Teams for 2009-2010 and 2010-2011 (see story here).
Some of her best support comes from her teammates. "We're like a close-knit family. My teammates and I talk about everything… classes, basketball… With everything going on, you have to have a balance. You can't forget about the social part."
Brittany is open to all options for her future. She knows that there are only a few spaces available to college basketball players in the WNBA. While she would love one of those spots or to play basketball overseas, she is seriously preparing for a future in computer science, possibly in the gaming industry. "I'm not counting out any future possibilities. Any of my choices will be a blessing!"
So keep your eye out for this rising star. Whether answering pressures on the basketball court or in the classroom, Brittany is going to find the tools – and the time – she needs to win.