Mission
To advance the citizens of North Carolina and the world through excellence and innovation in computing education and research.

Our world is in a constant and relentless state of technology-driven change. Computer science and technology are disrupting and revolutionizing every facet of our lives – completely transforming how we live, work and play.

The Computer Science Department at North Carolina State University is at the forefront of this software-enabled landscape. We relentlessly pursue collaborative innovation that pushes the boundaries of computing to improve the human condition and the world around us.

We produce consequential research and next generation talent capable of solving problems that don't exist today with technologies that are beyond our current imagination. We eagerly address problems that were once thought unsolvable.

We do all this in a joyful environment that reflects our values of innovation, diversity, collaboration, and lifelong learning.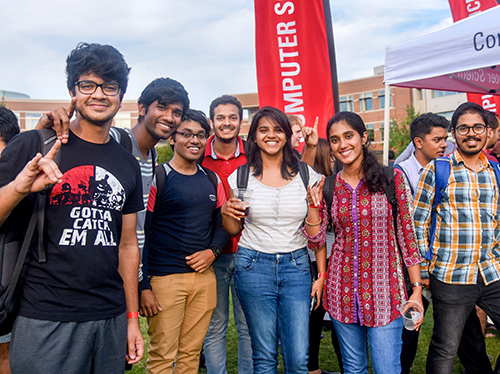 Vision
The North Carolina state motto is "To Be, Rather Than to Seem". NC State's Computer Science Department will be, and will be recognized as a top-20 public computer science department in the country, and one of the preeminent computer science departments in the world. We will achieve this vision by focusing on excellence in education, research, collaboration, and community.
-Approved by the Computer Science Faculty, April 16, 2018
Education
Impact: Research & Innovation
Collaboration
Diversity, Inclusion, Joy & Community
Core Values
As a department, we value a community of joy and respect that pursues innovative computing research and teaching. We believe in a diverse, inclusive culture that values, trusts, and promotes both individual and collective successes. We are committed to serving North Carolina and the world, and believe that this is best done through education, multidisciplinary research, and collaboration. We value preparing students for solving real computing problems.
The articulation of our core values grounds the department's vision. Our values are:
EXCELLENCE and INTEGRITY - We strive for excellence in computing education and research. We believe that excellence requires integrity, innovation, and continuous improvement.
JOY and RESPECT - Excellent work thrives in an environment where people pursue ideas they are passionate about, and that require applying skills that bring each individual joy, and that contribute to their personal development. Innovative research and valued education flourish only when people are valued, trusted, and supported through professional development, education, and positive relationships with our colleagues, students, peers and the larger community.
INCLUSION and SOCIAL JUSTICE - A diverse and inclusive culture promotes both individual and collective successes. We strive to have a diversity of people with variety of backgrounds, experiences and perspectives. Ultimately, we believe that the creators of technology must be representative of its users, and that as creators of technology, we have a responsibility to address issues of equity and social justice.
OUTREACH - Our commitment to serve North Carolina and the world requires a culture that values engagement with communities outside of academia. We believe that the quality of our research and education is enhanced by interactions with industry, government, and educators at all levels.
Related Links
Mission of the College of Engineering
Mission of the University