CSC News
March 02, 2017
LexisNexis and NC State Open New User Experience Lab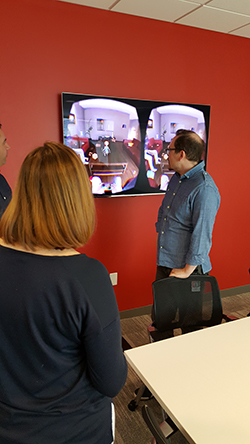 Three years after moving into the old Red Hat building on NC State University's Centennial Campus, LexisNexis is launching an initiative that site lead Mike Lipps hopes improve how humans and technology interact.

The legal software firm will open a user experience lab Wednesday, dubbed the LexisNexis Experience Innovation Studio, part of $3 million in recent renovations. The 1,500-square-foot lab is the product of a partnership between LexisNexis and the university. NC State donated equipment to the effort and LexisNexis funneled in the cash. Lipps says they'll work together to innovate user experiences.

"I think it's consistently demonstrated that companies that deliver outstanding user experiences tend to do much better financially from a shareholder standpoint," he says. "We've declared Raleigh to be the technology center for LexisNexis … and we want to be known locally as a leader in the field of user experience and user design."

Lipps says he'd been pushing for a lab like this since signing on with Centennial Campus. While the space's physical creation started in September, he'd had something similar in mind since working at Intuit in Silicon Valley – which also hosted a user experience lab.

By basing the facility on the first floor, LexisNexis is creating an "experience studio" students can walk through easily, he says.

Both LexisNexis and NC State will jointly operate the lab. It will be available to employees building project engagement sessions. And it will be available to university students working on their own ideas and projects. The goal is to create new solutions to problems that haven't yet been explored. Lipps envisions teams from multiple departments – from engineering to social sciences – collaborating with LexisNexis staff on new innovations.

"For us in the legal industry, we think this is pretty unique," he says. "Clearly, the most unique part of it is doing this in concert with one of the best technical universities anywhere in the country."

In a prepared statement, LexisNexis CEO Mike Walsh calls the collaboration "the next milestone in our company's innovation journey."

"It gives LexisNexis the ability to serve our customers in a new way – researching, testing and refining the latest thinking in user experience," he stated. "At the same time it gives students meaningful real-world experiences that tackle technology challenges and help advance the rule of law around the world."

LexisNexis has more than 600 employees in the Triangle and is the largest employer at Centennial Campus. And it's not the only company using Centennial Campus to interact with students. IBM (NYSE: IBM) recently opened an outpost at NCSU with a similar goal of interacting with university talent.
Return To News Homepage