CSC News
November 09, 2023
Department Honors Hall of Fame Inductees and Rising Stars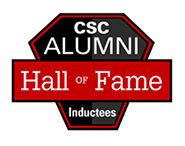 The NC State Computer Science Alumni Hall of Fame officially inducted three new members during a special ceremony held at the Park Alumni Center on November 2nd. More than 60 faculty, staff, inductees, their families and special guests were in attendance.
A photo gallery with pictures from the special event can be found here.
The CSC Alumni Hall of Fame was established in 2017 during the Department's 50th Anniversary celebration to recognize the exemplary contributions our outstanding graduates have made to their profession, their community, and to the world at large. With more than 11,000 CSC Alumni, only a select number will be chosen for recognition in our Alumni Hall of Fame making this a truly exceptional and noteworthy honor.
Nominees are evaluated based on their professional contributions in one of more of the following areas: professional achievement, entrepreneurship, community and/or public service, and service to the computer science discipline. With this year's additions, there are now 59 members of the CSC Alumni Hall of Fame.
Award winners are presented a specially designed award, and they are featured on a permanent display wall on the third floor of Engineering Building 2 (EB2), near the department's main office. The Alumni Hall of Fame wall features an interactive component that is also accessible online (http://ncsucsc.touchpros.com/ ).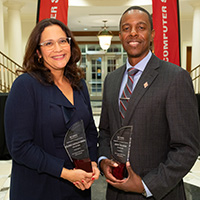 The 2023 inductees into the NC State Computer Science Alumni Hall of Fame include:
Claris Castillo-Singh

(PhD '08) – Founder and CEO at Humegy Corporation (

profile

)

JC Strickland, Jr.

(BS '97) – Founder and CEO at WingSwept (not pictured) (

profile

)

Jerry Tillman

(BS '03) – Vice President, IBM Cloud Platform Services at IBM (

profile

)
In addition, the department recognized two 'Rising Stars' - alumni showing exceptional promise during the early stages of their post-CSC degree professional career (within ten years of graduating from the Department). They are evaluated on similar criteria as Alumni Hall of Fame nominees. This year's honorees are:
Naomi Rose Patrick (MS '22) – Computer Scientist at the Federal Bureau of Investigation

—

(Patrick was honored posthumously. Pictured at right is Patrick's husband Anthony Patrick who accepted the award on her behalf.) (audio profile)

Neil Shah

(BS '13) – Lead Research Scientist and Manager at Snap Research (audio profile)
CSC Department head, Dr. Gregg Rothermel, offered his congratulations to the latest group of inductees saying, "This impressive group serves as an inspiration to all of us, including the faculty, staff and students! We celebrate the many contributions you have made to your profession, the community and to the computer science discipline. You are a shining example of what it means to embody the University's mandate to 'Think and Do the Extraordinary!'."
Ken Tate, director of engagement & external relations, says "Collectively, this group has made its mark in the public and private sectors. They have launched start-ups creating jobs and economic prosperity, they've innovated and automated and they have dozens of patents to prove it, they've inspired future generations of computer scientists, they've been recognized with countless awards and accolades, they've shared their wealth and wisdom to help others, and they are working on advanced technologies that will impact our lives in very positive ways. These individuals not only care about the world, they have found a way to use their passion and their talents to make this a better world for all of us!"
Tate added during the ceremony, "I have been with the department for over 22 years now and over that period, I've been involved in countless programs and initiatives during my tenure here. I can tell you with all sincerity that of all the things I have been involved with here in the life of the department, I am most proud of the launch of our Alumni Hall of Fame. Over the years, I have come to know so many of our honorees, but one of the most pleasant surprises about the entire process has been the emergence of alums I had not previously met!"
To nominate someone for future consideration, please visit the CSC Alumni Hall of Fame page (https://www.csc.ncsu.edu/alumni/hall-of-fame.php ).
~coates~
Return To News Homepage