CSC News
September 29, 2023
Stricklands Make Major Gift Pledge to Grow Carol Miller Student Leadership Endowment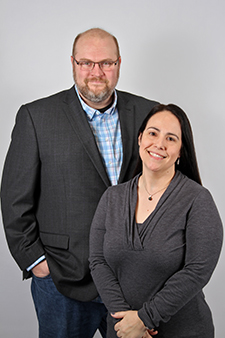 Thanks to the generosity of alum Jay Strickland (BS CSC '97) and his wife, April, the Carol Miller Student Leadership Endowment is about to grow substantially, greatly increasing the funds that will be available to help NC State computer science students in the future.
The Stricklands have made a $50,000 multi-year pledge to help grow the endowment by almost 60%! The endowment was created to honor the late Carol Miller, a very popular and long-time lecturer in the department who retired in 2009. It was made possible by a lead gift from Jay Strickland as well as the generous donations of numerous other alumni, family, and friends. It provides programmatic and/or scholarship support for student groups and student leaders. Once the pledge is completed, the value of the endowment will approach $140,000, generating cash awards of almost $6,000 annually.
During her 24 years of service as a lecturer for the department, Miller taught introductory and foundational courses to literally thousands of students, winning numerous teaching awards and establishing herself as a legendary department figure. But she was so much more than an outstanding instructor; she was an active faculty advisor to student organizations, she reviewed Park Scholarship candidates from Western NC, and she loved projects and initiatives that helped the underserved across the state.
Jay Strickland was one of thousands of CSC students whose life was impacted by meeting Miller, and that impact was made on many levels.
Strickland recalls meeting Miller as a freshman. "She was my very first computer science teacher," says Strickland, who started his career at NC State as an electrical engineering major. "I was dead set on electrical engineering until I took her class, and I credit Carol with helping me see that I belonged in computer science."
They maintained a strong connection after that introductory class. For a period of time, Strickland was responsible for coordinating all the TAs for the department's introductory courses. It was during this period that he got to work closely with Miller and other faculty. "For about three and a half years in college, I got to work directly with Carol and I saw how she poured herself into peoples' lives. She gave them a love for the degree and for programming in general."
As a student, Miller worked with Strickland on an independent study class that significantly impacted the trajectory of his professional career. "I got a chance to learn web development long before anybody else knew what it was," says Strickland who co-developed the course along with Miller and another computer science grad who was working at his start-up WingSwept. "I had the chance to work with her through several years of that class, and even had the chance to teach it once," says Strickland.
WingSwept began as a small computer-based consulting business with just one employee, but over the years has grown to a thriving computer IT firm employing nearly 90 individuals that spans five states. Strickland is highly regarded as a phenomenal leader and an example to those around him both professionally and personally. As a result of his leadership, WingSwept is consistently ranked among the best places to work in the Triangle and North Carolina. Later this fall, Strickland will be inducted into the NC State Computer Science Alumni Hall of Fame.
Recognizing the impact she made on Jay's life and career, the Stricklands say that their lead gift and this gift to grow the endowment is their way of honoring Carol Miller's legacy.
If you'd like to join the Stricklands and contribute to the Carol Miller Student Leadership Endowment, you can do so online at this special link. To learn more about how you can impact the department of Computer Science and create a legacy for you and your family, please contact Sara Seltzer at skseltze@ncsu.edu or 919.515.3730.
~crews~
Return To News Homepage