CSC News
January 30, 2023
Remembering NC State CSC Icon - Carol Miller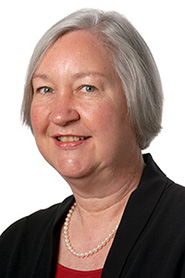 It is with heavy hearts that we report the passing of Computer Science Department icon, Carol Miller, who died on Jan. 26, 2023, in Brevard, NC after a valiant battle with acute myeloid leukemia (AML).
A Kentucky native, Carol was valedictorian of the Raceland High School class of 1964, graduated Phi Beta Kappa with a degree in mathematics from the University of Kentucky in 1968, and earned a master's degree in computer science from Stevens Institute of Technology in 1971.
She began her professional career in computer science as a programmer at Bell Labs in Whippany, NJ, later transferring to the Naperville, IL offices, where she met her husband, David Smith. She was a systems engineer for GE's Nuclear Fuels Division in Wilmington, NC, prior to transitioning into academia, joining NC State University in 1985 to teach computer science classes.
During her 24 years of service as a lecturer for the department, she taught introductory and foundational courses to literally thousands of students, winning numerous teaching awards and establishing herself as a legendary department figure. But she was so much more than an outstanding instructor; she was an active faculty advisor to student organizations, she reviewed Park Scholarship candidates from Western NC, and she loved projects and initiatives that helped the underserved across the state. She, along with a small group of students from the ACM/AITP student organizations, raised the funds and installed wiring at Waynesville Middle School, bringing the Internet to the school for the first time in 1997. She and her husband, David, also took a lead role in managing a Geek-a-thon in 2007 where CSC students, faculty and staff refurbished hundreds of donated computers at Centennial Middle School and distributed them to local families that had no access to a computer.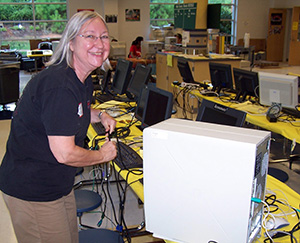 Upon her retirement in 2009, grateful alumni (led by a generous pledge from alumnus Jay Strickland) crowd-sourced an endowment in her honor. The Carol Miller Student Leadership Endowment, was created to pay tribute to Miller's legacy as a teacher, mentor, advisor, advocate, and friend to thousands of students over her career. Proceeds from the endowment have primarily been used for student need-based scholarships, and awarded to students in leadership roles within one of the CSC student organizations. She continued to stay involved in the life of the department even after her retirement, serving as a department historian and coordinating the documentation of the Department History update for our 50th Year celebration in 2017. She also served on the department's Alumni Hall of Fame Selection Committee since its launch in 2017. For more than a decade, the department has awarded two Carol Miller Outstanding Lecturer Awards annually (undergrad & graduate) to great instructors in her honor.
In retirement in Brevard, Carol was a committed volunteer tutor in the Rise & Shine after school program. She loved and was loved by her scholars in the program. She continued her involvement with Rise & Shine even when her illness made tutoring impossible.
She is survived by her husband of 43 years, David Howard Smith, of Brevard, and her two sons - Zachary Miller Smith of Raleigh and Peter Andrew (Andy) Miller Smith (Lisa Schimmer) of Durham. Her son Andy followed his mom's footsteps into academia, serving as a staff member in the Computer Science Department's Center for Educational Informatics.
There will be no formal funeral. Memorial services for close family and friends will be held in Brevard and Kentucky in the spring.
Memorials may be directed to the Carol Miller Student Leadership Endowment at the NC State Engineering Foundation, or Rise & Shine Afterschool Program in Brevard, NC.
Her official obituary can be found here.
~tate~
Return To News Homepage