CSC News
September 30, 2022
Department Launches Undergraduate Concentration in Artificial Intelligence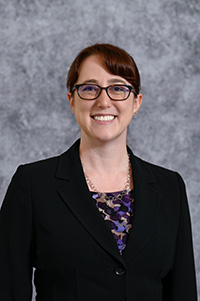 In fall 2022, the Department of Computer Science (CSC) launched a new Artificial Intelligence (AI) concentration for undergraduate students majoring in Computer Science. Dr. Sarah Heckman, Alumni Distinguished Undergraduate Professor and Director of Undergraduate Programs in CSC, said this concentration will equip students with an understanding of theoretical, conceptual and professional AI practices and enable them to use AI models to solve real-world problems.
"The AI concentration in particular allows us to support the overall goals of the National Artificial Intelligence Initiative," Heckman said. "It also is really cool because the AI concentration allows us to support some of the engineering Grand Challenges, especially in areas of advancing personalized learning, enhancing virtual reality, reverse engineering the brain, and engineering the tools of scientific discovery."
Heckman said CSC currently offers three undergraduate concentrations — game development, cybersecurity and artificial intelligence — which enable students to utilize their elective coursework to explore a subject matter of interest.
"For all of our concentrations, students will take 21 hours of focused coursework in those particular areas," Heckman said. "If you look at the base computer science degree, there's 24 hours of elective coursework. The concentrations allow students to take those hours and focus them in an area at depth."
Students in the AI concentration will develop an understanding of how to address real-world problems through AI practices and use data-informed decision making and problem solving. Heckman said this knowledge will provide students with essential skills that are in high demand.
"Apple recently just opened offices in Raleigh specifically for AI, and other corporations are very interested in AI as well," Heckman said. "We're finding that being able to use artificial intelligence models with appropriate curated data sets can provide a lot of value across disciplines."
In recent years, CSC has expanded opportunities for students to pursue areas of interest by creating new concentrations and tracks. While concentrations are intended for students who want to understand a subject extensively, CSC also offers two undergraduate degree tracks, which provide some depth in a subject matter while allowing students to pursue other electives.
The undergraduate track in security, which was established in 2019, comprises nine hours of coursework in computer and network security. The undergraduate track in entrepreneurship empowers students interested in entrepreneurial innovation to pursue 13 hours of coursework related to their focus.
"Concentrations and tracks provide the opportunity for students to focus their advanced coursework at various levels of depth," Heckman said. "The other piece of having these is that they become a really great advising tool as well. We can really carefully understand what it means to have depth at particular levels, and we know the courses that students need to take to complete this, so if a student knows they want to focus, they can really identify the courses they want to do. If you look at our elective list, we have lots of electives, and sometimes, it's difficult to choose, because there's so many great ones. This helps people find an area of interest."
Heckman said CSC will continue to establish new undergraduate concentration and track options to provide students with the means to master disciplines of their liking within Computer Science.
Students do not need to apply for an undergraduate track, but students must apply for an undergraduate concentration on the CSC advising website and must meet the admission requirements. To learn more about the admission requirements for the AI concentration, visit the CSC website.
~vespa~
Return To News Homepage