CSC News
June 30, 2022
Barnes Receives NCWIT Research and Mentoring Award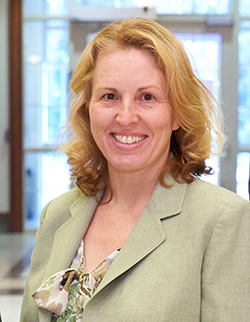 The National Center for Women & Information Technology (NCWIT) has named Dr. Tiffany Barnes, Distinguished Professor of Computer Science at NC State University, the recipient of the 2022 Harrold and Notkin Research and Graduate Mentoring Award.
The Harrold and Notkin Research and Graduate Mentoring Award is sponsored by the NCWIT Board of Directors and recognizes faculty members from non-profit institutions who distinguish themselves through outstanding research and excellent graduate mentoring, as well as those who recruit, encourage, and promote women and minorities in computing. It is given in memory of Mary Jean Harrold and David Notkin, to honor their outstanding research, graduate mentoring, and diversity contributions.
Barnes, a 2021 NC State CSC Alumni Hall of Fame inductee, earned her BS (1995), MS (2000) and PhD (2003) degrees in Computer Science from NC State University. After graduation, she taught computer science and served as Director of the Game Design and Development Program at the University of North Carolina at Charlotte before returning to NC State in 2012. Her efforts to boost the recruiting and retention of girls and women in computing date back to her graduate school days, when she helped to write an NSF grant to run a year-round enrichment program centered on a math summer camp for girls. Barnes has a strong record of mentoring women students throughout her career, as well as students with disabilities, Black and Hispanic women, Black men, LGBTQ students, and many students from underprivileged backgrounds. Her research focuses on AI for education, educational data mining, serious games for education, health and energy, computer science education, and broadening participation in computing education and research.
NCWIT is a 501(c)(3) nonprofit chartered in 2004 by the National Science Foundation (NSF) that convenes, equips, and unites nearly 1,500 change leader organizations nationwide to increase the influential and meaningful participation of girls and women — at the intersections of race/ethnicity, class, age, gender identity, sexual orientation, disability status, and other historically marginalized identities — in the field of computing, particularly in terms of innovation and development. (https://ncwit.org/)
~###~
Return To News Homepage