CSC News
April 25, 2022
Computer Science Spring Diploma Ceremony Set for May 5th
Please join us as we recognize our graduates during the NC State University Computer Science Department's Spring Diploma Ceremony on Thursday, May 5th at 8:00 a.m. The ceremony will be held in William Neal Reynolds Coliseum on the campus of NC State University, located at 2411 Dunn Avenue, Raleigh (directions).
Approximately 275 graduates are expected to receive their degrees during the ceremony. Our special thanks go to the NC State Engineering Foundation and the ePartners Program for their generous sponsorship of this event.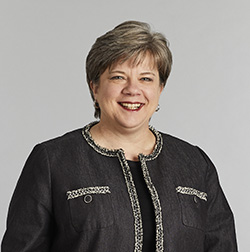 Beth Smith, General Manager, Worldwide Technical Sales and Customer Success at IBM Technology, will deliver the keynote address. Smith is a technology executive that has been on the forefront of the development, scale, and advancement of software technologies. Over a distinguished 35-year career at IBM, she has ushered in new technologies in the industry ranging from SOA, database management, analytics, and artificial intelligence. Her passion for technology took root in 1987 with her first role as a programmer in Cary, NC.
Currently, as the General Manager of Worldwide Technical Sales and Customer Success at IBM, Smith leads over 8000 technical specialists globally, enabling clients to innovate and achieve competitive advantage for their businesses.
Smith has held several executive roles within IBM including General Manager of IBM Watson AI, where she led the global software product business. In that role, she was featured in news media and analysts reports discussing the relevance of Artificial Intelligence in today's business world and the importance of Ethics of AI.
Her unique differentiation is her ability to connect deeply with clients, across many countries and industries, while personally having the technology depth to guide product and engineering teams. With this superpower, Smith has personally orchestrated several multi-billion-dollar IBM software technology businesses throughout her career.
Smith is also dedicated to developing others - she has advocated, mentored and sponsored several women and minorities in engineering to attain higher heights in the technology industry. She is a believer and a "doer" in bringing others along on the journey.
She also gives back to the community by serving on the Board of Directors for Charity Navigator, the largest and most-utilized evaluator of charities in the U.S.
Smith is a proud graduate of NC State University (BS CSC '87), and she was inducted in the NC State Computer Science Alumni Hall of Fame in 2020.
NOTE TO GRADUATES: For the benefit of relatives and friends who may not be able to attend the event in person, the event will be available online via live video streaming at http://go.ncsu.edu/csc-diploma. Firefox, Internet Explorer and Safari are recommended for viewing the live streaming of the ceremony.
Parking is available in the Coliseum Parking Deck located at 201 Jeter Drive. For the convenience of guests who might require overnight accommodations, there are a number of hotels located in the immediate area. For more information, click here.
There are several ways to commemorate this special occasion. As each graduate is handed his/her scroll, a professional photographer will take his/her picture. A free color proof will be sent to each graduate's current mailing address, including a password for online viewing. There is no obligation to purchase prints. To receive email notification when photos are online, please visit www.photospecialties.com to pre-register. If a proof is not received within a week of the ceremony, please contact info@photospecialties.com or call 1-800-722-7033.
~coates~
Return To News Homepage