CSC News
April 19, 2021
Spring 2021 Graduates to be Recognized During Virtual Diploma Ceremony on May 13th
Please join us as we virtually recognize and celebrate our Spring 2021 graduates during the NC State University Computer Science Department's 2021 Spring Diploma Ceremony on Thursday, May 13th at 1:00 p.m.
The Department had hoped to be in a position this spring to invite all graduates, their friends and family, and our faculty and staff to campus to officially celebrate this milestone. Unfortunately, that is not going to be possible since COVID-19 is still active worldwide. Therefore, CSC has partnered with StageClip so that all graduates will be honored as individuals, and they will be part of a special communal experience on-line as we celebrate and recognize their unique place in the history of the CSC Department.
All of our 2021 Spring graduates should have received emailed instructions from StageClip. The email included instructions and timelines on how graduates can provide a quote, digital image and/or short video to be included in the ceremony. When completed, students will be sent a link to their individual graduation clip that they can share via social media! A great example of how each individual clip might look can be found here.
The direct link to the ceremony is https://ncsucs.stageclip.com/, which will be active approximately two days in advance of the event. Please share this with your family and friends. If you cannot join us live for the event, it will be available on demand to view at your pleasure later.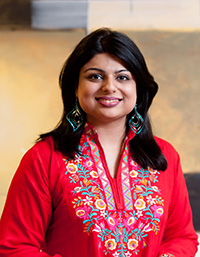 Our 2021 Spring Diploma Ceremony special guest speaker will be Dr. Bushra Anjum, a 2012 PhD graduate from NC State's Computer Science Department, where she was advised by Dr. Harry Perros. Anjum is a health IT specialist currently working as the Data Analytics Manager at a San Francisco startup, Doximity.
Focused on creating HIPAA secure tools for clinicians, Anjum leads a team of analysts, scientists, and engineers working on product and client-facing analytics. She also makes key contributions to data projects directly, from data ingestion to analysis to recommendations, by employing her advanced knowledge of analyzing large datasets, building complex aggregates, creating data visualization, and conducting multivariate statistical analysis and predictive modeling. Prior to Doximity, Anjum worked for Amazon as a software engineer, architecting large-scale distributed services supporting Prime Membership, with particular emphasis on performance and scalability.
Anjum, a Fulbright Scholar from Pakistan, served in academia (both in Pakistan and the USA) for many years before joining the tech industry. She continues to volunteer at Cal State University campuses, and public schools, teaching computer science related content and serving as an industry mentor. A keen enthusiast of promoting diversity in the STEM fields, her other volunteer activities involve being a senior editor for ACM Ubiquity and the Standing Committee's Chair for ACM-Women.
Anjum is also serving as a community leader and mentor at GlobalTechWomen, Pakistani Women in Computing (PWiC), CRA Widening Participation (CRA-WP), Rewriting the Code (RTC), Empowering Leadership Alliance (ELA), LeanIn.org, among others. She is a regular speaker at the Grace Hopper Celebration of Women in Computing Conference, the Richard Tapia Celebration of Diversity in Computing Conference, STARS Celebrations, CRA-WP Grad Cohorts, and others. She has been recognized by Tribune as a Top 20 under 40 Professional for career excellence with a deep commitment to community service. She is also a recipient of the Lahore University of Management Sciences (LUMS) VC Alumni Achievement Award for sustained excellence in engineering, and leadership in the profession and public affairs.
In recognition of her many professional accomplishments, Anjum was recognized in the inaugural class of NC State Computer Science Outstanding Young Alumni (Alumni "Rising Star" Award) in October 2017.
If you have questions about the Spring 2021 Diploma Ceremony, please contact the Undergrad or Graduate Offices as appropriate..
~coates~
Return To News Homepage