CSC News
November 12, 2020
Five Alumni Inducted into the CSC Alumni Hall of Fame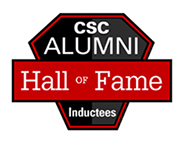 The NC State Department of Computer Science proudly announces the induction of five outstanding new members into the NC State Computer Science Alumni Hall of Fame. Because of COVID-19 related restrictions on gatherings, we will officially celebrate with these honorees, their families and guests at a special ceremony to be scheduled next year.
The CSC Alumni Hall of Fame was established in 2017 to celebrate and recognize the exemplary contributions our outstanding graduates have made to their profession, their community, and to the world at large. With more than 10,000 CSC Alumni, only a select number will be chosen for recognition in our Alumni Hall of Fame making this a truly exceptional and noteworthy honor. This class of inductees brings the total number of alumni honored in the Hall of Fame to 47.
Award winners are presented a specially designed award to take home and they will be featured on a permanent display wall on the 3rd floor of EB2, near the department's main office. The Hall of Fame wall features an interactive component that is also accessible online (http://ncsucsc.touchpros.com/).
The 2020 inductees into the NC State Computer Science Alumni Hall of Fame include:
CSC Department head, Dr. Gregg Rothermel, extends his congratulations to the latest group of inductees. Rothermel said, "It is most unfortunate that COVID-19 has robbed us of the pleasure of celebrating in person this fall with this outstanding group of Computer Science alumni. But celebrate, we will, when we can gather safely! This impressive group serves as an inspiration for us all – faculty, staff and students."
Ken Tate, director of engagement & external relations, says "This group truly represents a broad spectrum of achievement, from entrepreneurs to executive leadership to researchers to a politician, this is yet another group of NC State Computer Science alumni who have left their mark on this world in a socially relevant way."
Tate adds, "Every year, we discover alumni doing amazing things and we look forward to discovering more!"
To nominate someone for future consideration, please visit the CSC Alumni Hall of Fame page. (https://www.csc.ncsu.edu/alumni/hall-of-fame.php).
~###~
Return To News Homepage