CSC News
November 12, 2020
Department Honors Two Alumni 'Rising Stars'
The NC State Department of Computer Science proudly announces the selection of Angie Jones and Ravi MuthuKrishnan as 'Rising Stars' for 2020. Because of COVID-19 related restrictions on gatherings, we will officially celebrate with these honorees, their families and guests at a special ceremony to be scheduled next year.
The CSC Alumni 'Rising Star' Award (previously known as the CSC Outstanding Young Alumni Award) was established in 2017, as part of the department's 50th Year Celebrations, to celebrate and recognize the exemplary contributions our outstanding graduates have made to their profession, their community, and the world at large. In particular, the 'Rising Star' Award recognizes alumni within 10 years of graduation, an honor reserved to recognize alumni for early stage career accomplishments. To date, the department has recognized a total of 13 'Rising Stars'.
Honorees are presented a specially designed award to take home and they will be featured on a permanent display wall on the 3rd floor of EB2, near the department's main office.
The 2020 CSC Alumni 'Rising Stars' winners are profiled below: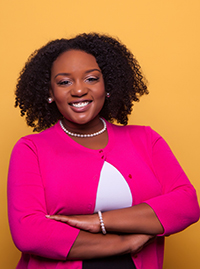 Angie Jones - Angie is a 2010 MS graduate of the department and currently serves as a Senior Developer Advocate with Applitools, where she specializes in test automation strategies and techniques.
She shares her wealth of knowledge around the world, as an International keynote speaker who has spoken at more than 150 software development conferences in 18 countries. She is a Certified Java Programmer and teaches free online software development courses for engineers via the online learning platform, Test Automation University.
Recognized as a "Master Inventor" while working at IBM early in her career, Angie is known for her innovative and out-of-the-box thinking style, which has resulted in more than 25 patented inventions in the US and China in the areas of collaboration software, social networking, virtual worlds, smarter planet, and software development processes. While working as a software engineer, she also served as an adjunct professor in the Computer Science department of Durham Technical Community College teaching the next generation of software engineers.
Angie was featured in Ebony magazine as one of the country's "30 Young Leaders Under the Age of 30", by Women of Color magazine as a "Technology Rising Star", by Triangle Times as a "Mover and Shaker in the IBM Corporation", and by Spectacular magazine as the "Future of Tech in the Triangle." In 2020, she was named a 'Java Champion' - one of only about 300 in the world, and the 1st Black woman to be so honored.
Angie is committed to mentoring young women and exposing them to technology. In her spare time, she runs an online community, Diva Chix, where teenage girls and women learn to excel in technological areas as well as learn other key life lessons such as running a business and working as a team...all within the realm of a game. She also volunteers with Black Girls Code to teach coding workshops to young girls in an effort to attract more women and minorities to tech.
Angie is frequently featured in online publications, podcasts, and magazines (http://angiejones.tech/featured/).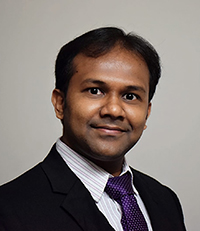 Ravi MuthuKrishnan – Ravi is a 2011 MS graduate of the department and currently serves as the Product Security Lead at Visa, Inc, where he leads security architecture for Visa Digital Products and Emerging Technologies. Previously, he has worked in the CTO office at IBM Security and at e-commerce companies such as eBay, PayPal, and HP.
Ravi is a master innovator with 35+ information and payment security patents and more than a dozen publications to his credit, research published with over 150+ citations (with an h-index of 6, i-10 index of 4), and one of the youngest internal patent review board members judging patent submissions at IBM.
He is a recognized expert and leading voice in product and application security, cloud security, and risk management. He has been an invited speaker at major security industry conferences around the world, including RSA Asia Pacific, OWASP LasCon USA, European Identity & Cloud Conference, IDG Security World South Korea, and more.
Ravi has been named a Senior Member of the Institute of Electrical and Electronics Engineers (IEEE) and Information Systems Security Association (ISSA), which only 10% of members achieve, reflecting professional accomplishment and maturity.
He serves as an editorial advisory board member and judge for a number of top journals and awards such as The Journal of Cybersecurity and Mobility, The International Systems Security Association (ISSA) Journal, The Journal of Information System Security, and conference program and Cloud Security Alliance SECtember 2020.
Ravi holds a number of special awards including the Visa Beyond Go Beyond Award, the IBM Fifth Plateau Invention Achievement Award, the IBM Security App Exchange Contest - Eminence and Excellence Award, and the IBM Technical Rock Star for Cloud Award.
CSC Department head, Dr. Gregg Rothermel, offers his congratulations to the honorees saying, "Angie and Ravi are excellent examples of the incredible early career impact our graduates are capable of making when they apply their degrees with a passion. They can truly change the world."
Ken Tate, director of engagement & external relations, says "It gets harder and harder to make these selections each year as the accomplishments are so incredible. Angie and Ravi are truly outstanding examples of achievement and I know they will serve as an inspiration to our current students."
To nominate someone for future consideration as a member of the CSC Alumni Hall of Fame or as a 'Rising Star', please visit the CSC Alumni Hall of Fame page. (https://www.csc.ncsu.edu/alumni/hall-of-fame.php).
~###~
Return To News Homepage