CSC News
December 10, 2019
Student Team Finishes 4th in Programming Contest
On November 9th, two teams of NC State computer science students, coached by Dr. David Sturgill, competed in the 2019 Mid-Atlantic Regional Programming Contest of the International CollegiateProgramming Contest (ICPC).
The contest presented teams with eight programming problems, challenging the three-student teams to solve as many as they could in five hours. One of the teams from NC State, "Punctuation Blender," placed 4th in the contest solving seven of the eight problems. They earned a spot at the North American Championship to be held in February, 2020, in Atlanta, Georgia. If they do well at this next contest, they could advance to the ICPC World Finals next summer in Moscow.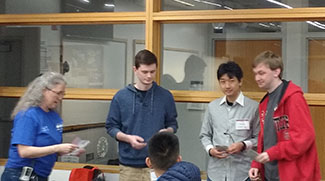 Congratulations to members of Punctuation Blender for finishing fourth: Duncan Page, Yosuke Mizutani and Thomas Barnette (pictured left-to-right).
The second team NC State team, "Kala Khatta," finished 34th, and is made of up team members Anshul Jethvani, Jay Modi, and Jimmy Zheng.
The teams would like to thank their sponsors: Bank of America, Blue Corn iCi, Deutsche Bank Global Technology, Inmar, the Computer Science Department ePartners Program, and the NC State Engineering Foundation.

The ICPC is a multi-tier, team-based programming competition representing institutions of higher education. It is an extra-curricular, competitive programming sport of the universities of the world. ICPC competitions provide gifted students with opportunities to interact, demonstrate, and improve their teamwork, programming, and problem-solving prowess. The ICPC is a global platform for academia, industry, and community to shine the spotlight on and raise the aspirations of the next generation of computing professionals as they pursue excellence.
For a complete list of standings, please click here.
~coates~
Return To News Homepage