CSC News
March 20, 2019
Undergraduate Entrepreneurship Track Coming Fall of 2019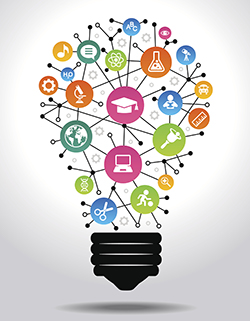 The Department of Computer Science at NC State University is pleased to announce the approval and launch of a new Undergraduate Entrepreneurship Track in the Computer Science Undergraduate Program curriculum. The track is effective Fall 2019.
"The entrepreneurial spirit runs deep in the computer science community," says Dr. Gregg Rothermel, Department Head for the NC State Department of Computer Science. "At our core, computer scientists are innovative problem solvers, and we are called on to create the exciting new technologies that have permeated literally every aspect of our lives. As a department that fuels the economy in the state of North Carolina, while also nurturing the creation of systems that affect the entire world, we have a fundamental responsibility to develop and nurture the entrepreneurial spirit of our students," says Rothermel, who took the helm of the department last November.
According to the Princeton Review and Entrepreneur magazine, NC State is the top college for undergraduate entrepreneurship in North Carolina and ranked 11th nationally for undergraduate entrepreneurship.
Despite NC State's growing and highly successful entrepreneurship initiative with its broad multi-disciplinary participation and support, official entrepreneurship opportunities for Computer Science undergraduate students have been limited with none officially sanctioned by the department.
That is until now.
"Computer science is fundamental and integral to entrepreneurship, yet it has not been easy for computer science students to follow their entrepreneurial dreams here at NC State," says Dr. Sarah Heckman, Director of Undergraduate Programs.
Heckman, who along with Drs. Laurie Williams (former interim Department Head) and Vince Freeh (Assistant Director of Undergraduate Programs), were instrumental in the launch of the new track says, "We've overcome some of the curriculum challenges so that our undergraduate students can now engage in entrepreneurship as part of their academic coursework and connect with the broader and vibrant entrepreneurial community here at NC State."
CSC students have always been able to participate in the Engineering Entrepreneurs Program (EEP), however, the associated courses could be counted only as Other Restricted Electives. Heckman says few students had the bandwidth to accommodate this within the rigorous CSC curriculum. "We are now partnering with the EEP to support the CSC Undergraduate Entrepreneurship Track, allowing students to complete the track by customizing 13 hours of required coursework that can fit within their CSC Restricted and Other Restricted Electives," says Heckman.
CSC alum and entrepreneur, DeShawn Brown, was excited to hear of the news. "When I was a student at NC State, I had to forge my own entrepreneurial path without a lot of structure or direction," says Brown, founder of Lithios Apps. "This new track will expose many more aspiring computer science entrepreneurs to the terrific resources available to them at NC State!"
The Entrepreneurship Track is one of two new undergraduate tracks available to NC State Computer Science students starting in the fall of 2019, the second being a track focused on security.
For more information on the CSC Undergraduate Entrepreneurship Track and its curriculum requirements, please click here.
~tate~
Return To News Homepage