CSC News
December 23, 2016
A Time to Celebrate! Computer Science Department Honors Our Fall 2016 Graduates
The newly renovated William Neal Reynolds Coliseum provided a wonderful venue for the Computer Science Department's Fall Diploma Ceremonies held Thursday, December 15th. More than 200 undergraduates and graduates celebrated their graduation with more than 1,500 relatives, friends, and guests who were on hand for the event.
This fall's graduating class included 19 Ph.D., 119 M.S., and 66 B.S. degrees expanding the department's alumni base to well over 8,000. The top employers for this semester's graduates are Amazon, Facebook, IBM, and VMware.
The undergraduate class included one Valedictorian (perfect 4.0 GPA): Katherine Ellen Brey; one Computer Science Honors Program participant: William Bryant Eason; and numerous members of a variety of scholastic honor societies. This fall's graduating class included many other noteworthy graduates including Christian McCurdy, an ACC Men's Swimming Champion; Jordan Furgeson, who was commissioned as a second lieutenant in the US Air Force the day before graduation, and will be going to Vance Air Force Base in Oklahoma in June to begin training as a pilot; and Colleen Hutson who will be moving to Atlanta to work in the IT Department at the corporate offices of Chic-fil-A.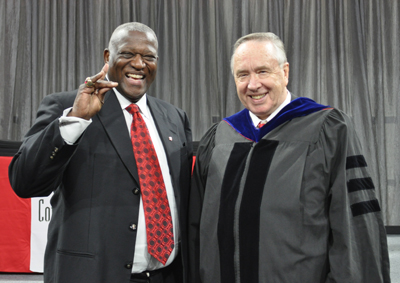 We were honored to have Dereck Whittenburg, Associate Athletic Director for Community Relations and Student Support at NC State, serve as our keynote speaker. Whittenburg was a member of NC State's 1983 national championship men's basketball team. He was recruited by Norm Sloan to NC State, but became a household name playing under Jim Valvano from 1980 to 1983. His status as Wolfpack icon and hero were solidified with his last second shot/pass that Lorenzo Charles slam dunked to help the Wolfpack win the 1983 national championship. He was drafted in the third round of the 1983 NBA Draft by the Phoenix Suns.
Starting in 1985, Whittenburg spent 30 years in coaching serving in a variety of assistant and head coaching positions. Most recently, he worked with the Wolfpack men's basketball program as Senior Assistant to the Head Coach/Director of Player Development.
Whittenburg currently serves as NC State's Associate Athletic Director for Community Relations and Student Support, a role he has held since October 2015. In this role, he develops and promotes programming aimed to benefit current and former student-athletes, while also working to cultivate relationships with local and regional businesses regarding future employment opportunities for Wolfpack graduates. Additionally, Whittenburg's role include speaking at and hosting events for the athletic department and other affiliated organizations, as well as supporting on-campus recruiting initiatives for each of the Wolfpack's 23 varsity programs. Whittenburg also serves as an advocate for former student-athletes to return to NC State to complete their respective degrees and he serves on NC State's professional sports panel.
In 2015, Whittenburg and his wife, Jacqueline, established the Dereck Whittenburg Foundation for Education to provide need-based scholarship support for students at NC State and Shaw University. Computer Science student Jorge Ramos Ruiz, was among the first four inaugural recipients of scholarships from NC State University.
DVDs of the ceremony are available for a nominal $25 processing fee. Contact Tammy Coates for more information. Additionally, a professional photographer took photos of each graduate as he/she received his/her diploma. For more information, please contact the photographer.
Save
Save
Return To News Homepage