CSC News
August 30, 2016
NC State Scores for Video Game Design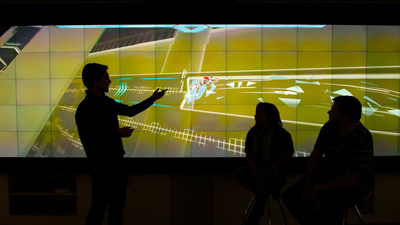 NC State ranks among the top schools in the nation for undergraduate courses related to video game design, according to the Princeton Review's Best 381 Colleges 2017, a popular annual survey of U.S. colleges and universities. Coming in at No. 33, NC State joins an impressive list of public and private institutions in the top 50 for game design, including the University of Southern California, Savannah College of Art and Design and the Massachusetts Institute of Technology.
NC State's Department of Computer Science offers a concentration in game development that includes rigorous courses in artificial intelligence, human-computer interaction, graphics and computer models of interactive narrative. Students choose elective courses from offerings in English, communication and music, including fiction writing, game studies and music composition with computers.
A notable example of NC State's multidisciplinary approach to game design was a program developed to showcase the Hunt Library's game lab in 2013 by students in a digital design course taught by professors in both the College of Design and the College of Engineering.
The video game industry is one of the fast growing in the United States, with total revenues rising 5 percent and surpassing $23 billion last year, according to the Entertainment Software Association. The Triangle is home to more than 40 game companies.
Princeton Review also included NC State on its list of "Colleges That Pay You Back," awarding the university a score of 90 for ROI, or return on investment. Institutions on that list get high marks in three areas: stellar academics, affordability and strong career prospects for graduates.
NC State alumni have a median mid-career salary of nearly $90,000 with 41 percent working in fields related to science, technology, math or engineering.
The university also received high scores for quality of life, fire safety and sustainability.
Save
Return To News Homepage