CSC News
August 30, 2016
NSF Supports Stolee's Research on Software Bugs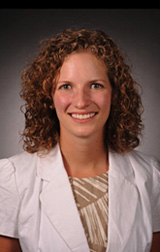 Dr. Katie Stolee, assistant professor of computer science at NC State University, has been awarded $387,661 by the National Science Foundation (NSF) to support her research proposal entitled "Semi and Fully Automated Program Repair and Synthesis via Semantic Code Search." This is a collaborative proposal with Claire Le Goues at Carnegie Mellon University and Yuriy Brun at the University of Massachusetts-Amherst. The total amount of the award is $1,199, 657.
The award will run from July 1, 2016 to June 30, 2020.
Abstract
– Software plays an integral role in our society. However, software bugs are common, routinely cause security breaches, and cost our economy billions of dollars annually. The software industry struggles to overcome this challenge: Software is so inherently complex, and mistakes so common, that new bugs are typically reported faster than developers can fix them. Recent research has demonstrated the potential of automated program repair techniques to address this challenge. However, these techniques often produce low-quality repairs that break existing functionality. In this research, we develop new techniques to fix bugs and implement new features automatically, producing high-quality code.
For more information on Dr. Stolee, click here.
Save
Return To News Homepage