CSC News
July 18, 2016
Shen Receives Research Support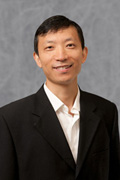 Dr. Xipeng Shen
, associate professor of computer science at NC State University, has been awarded $17,609 by Lawrence Livermore National Laboratory via US Dept. of Energy to support his research proposal entitled "
Ontology-based Program Analysis and Optimizations
." The award will support the work of Shen's graduate student, Yue Zhao.
The award will run from May 20, 2016 through July 24, 2016.
Abstract
– This subcontract is to help support the graduate student Yue Zhao to continue advancing the research on Ontology-based Program Analysis and Optimizations.
For more information on Dr. Shen, click here.
Return To News Homepage