CSC News
June 21, 2016
Shen Named Senior Member of IEEE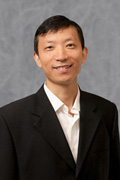 Congratulations to Dr. Xipeng Shen, Associate Professor of Computer Science at NC State, on recently being elevated to Senior Member grade of the Institute of Electrical and Electronics Engineers (IEEE).
As an IEEE Senior Member, Shen is among an elite group in IEEE, as only 9% of the IEEE's 433,000 members have achieved this level. Senior membership requires experience reflecting professional maturity as an engineer, scientist, educator, technical executive, or originator in IEEE-designated fields for a total of 10 years. Also, members must demonstrate five years of significant performance.
For more information on Dr. Shen, click here.
For more information on IEEE Senior Membership, click here.
For more information on the IEEE, click here.
Save
Return To News Homepage