CSC News
June 09, 2016
Cisco Supports Shen's Research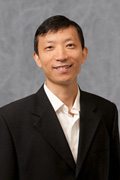 Dr. Xipeng Shen
, associate professor of computer science at NC State University, has been awarded $99,859 by Cisco to support his research proposal entitled "Enabling High Performance Pipelined Computing on GPU."
The award will run through May 1, 2017.
Abstract
– This project aims to develop a programming system support for mapping pipelined tasks to a GPU with the performance maximized, and reveal some important potential opportunities for hardware extensions to improve the support of pipelined computations on the GPU.
For more information on Dr. Shen, click here.
Return To News Homepage