CSC News
June 08, 2016
Ford Receives NSF Graduate Research Fellowship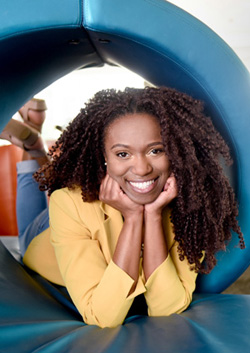 Congratulations to PhD student Denae Ford on being chosen to receive a prestigious and highly competitive National Science Foundation (NSF) Graduate Research Fellowship.
Ford, who graduated magna cum laude with a bachelor's degree from the department in 2014, is now working toward her PhD in Computer Science at NC State while pursuing a minor in Cognitive Science. Her research interests are a blend of human computer interaction, software engineering, and social interactions to characterize programming knowledge representation.
The NSF Graduate Research Fellowship recognizes and supports outstanding graduate students in NSF-supported science, technology, engineering, and mathematics disciplines who are pursuing research-based Master's and doctoral degrees at accredited US institutions.
The purpose of the NSF Graduate Research Fellowship is to help ensure the vitality and diversity of the scientific and engineering workforce of the United States. For the 2016 competition, NSF received close to 17,000 applications, and made 2,000 award offers. As the oldest graduate fellowship of its kind, the program has a long history of selecting recipients who achieve high levels of success in their future academic and professional careers. Since 1952, NSF has funded close to 50,000 Graduate Research Fellowships out of more than 500,000 applicants.
Fellows share in the prestige and opportunities that become available when they are selected. Fellows benefit from a three-year annual stipend of $34,000 along with a $12,000 cost of education allowance for tuition and fees (paid to the institution), opportunities for international research and professional development, and the freedom to conduct their own research at any accredited US institution of graduate education they choose.
Ford also recently won a Microsoft PhD Research Fellowship. She is the first NC State student to receive this award, and is spending the summer interning at Microsoft Research as part of her Fellowship. Ford is advised by Dr. Christopher Parnin, and is a member of the NC State Alt Code Research Group. For more information on Ford's current research projects, click here.
Return To News Homepage