CSC News
February 08, 2016
Ford Receives Microsoft Research PhD Fellowship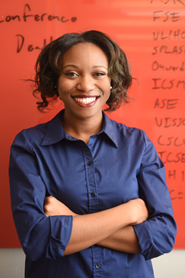 The NC State Computer Science Department is pleased to announce that Denae Ford has been chosen to receive a highly competitive Microsoft PhD Research Fellowship. She is the first NC State student to receive this award.
Ford, who also received her BS degree from the department, is a PhD student in Computer Science pursuing a minor in Cognitive Science.
The Fellowship is a two-year program for outstanding PhD students nominated by their universities. The program recognizes and supports outstanding graduate students who are pursuing doctoral degrees in computer science, electrical engineering, and mathematics. Her submitted research proposal identified how to "Explore the Knowledge Gap of Software Engineering Technical Interviews Using Biometric Sensing."
Microsoft Research awarded the Graduate Research Fellowship to 12 individuals nationwide out of 211 applicants. Each fellowship recipient's award will cover tuition and fees for two academic years, a $28,000 stipend to cover living expenses while in school, a $4,000 conference and travel allowance to attend professional conferences or seminars, and an opportunity to complete one salaried internship during the year following the award.
Ford is advised by Dr. Christopher Parnin, and is a member of the NC State Computer Science Alt Code Research Group.
For more information on Ford's current research projects, click here.
Return To News Homepage