CSC News
March 30, 2016
Barnes Receives NCWIT Undergraduate Research Mentoring Award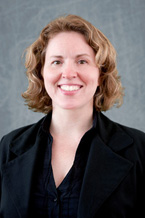 Congratulations to Dr. Tiffany Barnes, associate professor of computer science at NC State University, on winning the National Center for Women and Information Technology (NCWIT) Undergraduate Research Mentoring Award.
This award is one of four awarded by NCWIT this year, and is the only one awarded in the Senior Faculty member (professor or associate) category.
Barnes was recognized for her outstanding mentorship, high-quality research opportunities, recruitment of women and minority students, and efforts to encourage and advance undergraduates in computing-related fields. Per her NCWIT citation: "Dr. Barnes encourages students to apply for awards, honors, fellowships, and attend graduate school, scaffolding that experience with talks on how to write applications in addition to offering in-lab reviews for applications. Barnes has mentored 83 students with 73% of her students belonging to minority groups in computing. Fifty-five percent of her mentored students have gone on to graduate school."
Please join us in congratulating Barnes on this very prestigious national award.
Return To News Homepage