CSC News
March 14, 2016
Singh Named Alumni Association Distinguished Graduate Professor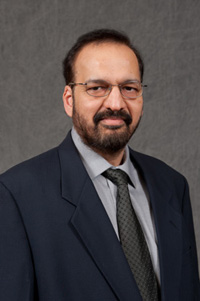 Dr. Maureen Grasso
, Dean of the Graduate School, recently announced that Dr. Munindar Singh, professor of computer science,has been selected as one of four recipients of the Alumni Association Distinguished Graduate Professorship Awards for 2016.
The Award Selection Committee, which is made up of the Dean of the Graduate School, President of the University Graduate Student Association, last year's award recipients and one member of the Graduate Administrative Board, was unanimous in its praise for Singh's exceptional record of graduate student training and the extraordinary quality of the mentoring he provided both during and after their graduate programs at NC State.
Singh, who joined the NC State Computer Science Department in 1995, has served as a mentor to seven postdoctoral fellows, including two currently, 26 PhD advisees, including six that are in progress, and has graduated 27 research Masters students. He is an Institute of Electrical and Electronics Engineers (IEEE) Fellow, and a member of the Associate for Computing Machinery (ACM), and the Association for the Advancement of Artificial Intelligence (AAAI).
He is the editor-in-chief of the ACM Transactions on Internet Technology and was previously the editor-in-chief of IEEE Internet Computing. He serves on the editorial boards of the leading journals in his specialty, including Autonomous Agents and Multi-Agent Systems, IEEE Internet Computing, IEEE Transactions on Services Computing and ACM Transactions on Intelligent Systems and Technology. He has also served on the boards of Journal of Web Semantics and Journal of Artificial Intelligence Research.
Singh received the NC State Alumni Association Outstanding Research Award in 2015. His research interests include multiagent systems and sociotechnical systems with applications in cybersecurity and service-oriented computing. Singh's current research addresses the challenges of trust, accountability, privacy, and high-level protocols in large-scale open environments.
Singh earned his PhD in computer science, and his M.S.C.S. with a minor in Philosophy (logic) from the University of Austin, Texas; and his B. Tech. in Computer Science and Engineering from the Institute of Technology, Delhi, India.
Return To News Homepage