CSC News
December 29, 2015
Pete Forsyth of Wiki Strategies Kicks Off Spring Fidelity Investments Speakers Series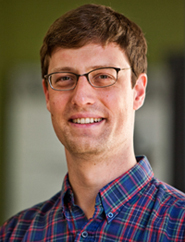 Please join us on January 26th at 6 p.m. in room 1231 in Engineering Building 2 for our first Spring 2016 talk in the Fidelity Investments "Leadership in Technology" Speakers Series.
Our special guest speaker will be Pete Forsyth, Principal, Wiki Strategies.
His talk topic will be "Wikipedia – a new era in humanity's curation of knowledge."
Forsyth is a Wikipedia expert, adept in the collaborative processes that have produced the world's most extensive and most widely read body of knowledge. He helps organizations engage with Wikipedia to achieve their goals, while honoring the core policies and values of the site.


Forsyth began writing Wikipedia articles in 2006, focusing on the history of his home state of Oregon. He is a founder of WikiProject Oregon, a dynamic group of Wikipedians which coordinates collaborative projects and engages with local institutions. He serves on the Advisory Board of the GLAM-Wiki U.S. Consortium, a group that performs similar functions nationwide.

He was a key architect of the Wikimedia Foundation's Wikipedia Public Policy Initiative, a project that helped university courses engage with Wikipedia's peer production practices. The foundation's Wikipedia Education Program and the Wiki Education Foundation both grew out of this work; both support instructors in using Wikipedia as a teaching tool.

Forsyth is a Senior Editor on the English language Wikipedia.

His projects with Wiki Strategies have ranged from improving a single Wikipedia article to designing programs that engage large numbers of Wikipedia volunteers. He has also spoken about Wikipedia to audiences at Ivy League universities and community groups, from Poland to California.
Abstract
: Wikipedia is an unheralded winner of the information age. It is arguably the most widely-read publication in history. Its hundreds of language editions boast many millions of articles, with topics ranging from aardvark to zydeco -- including millions that you would never have even thought you might find in an encyclopedia as recently as the 1990s.

But as we celebrate Wikipedia's 15th anniversary, the headline of its story isn't about a merely bigger, more comprehensive publication; it's about a truly unprecedented production process that permits hundreds of thousands of people to work alongside one another -- in many cases, without so much as language in common.

Before the advent of wiki software in 1995, the idea of a publication without a central editorial authority was difficult to imagine. Before Wikipedia was founded in 2001 -- initially, as an offshoot and "feeder" for an online encyclopedia with a traditional production model -- wiki-based web sites were built by small communities, who typically blended content and discussion about a topic into the same page.

Today's Wikipedia has an extensive documentation of policies and guidelines. There are formalized processes for electing administrators, deciding which articles should be deleted and which should be promoted as the best examples of its content, and resolving disputes. Its technology and policy framework combine to create a unique, and uniquely productive, system for organized collaboration and peer production.

Wikipedia's role has encroached on those of institutions like universities, news organizations, museums, and archives. But it is not in Internet startup seeking to disrupt institutions for financial gain; it's run by a loose-knit international community of passionate volunteers seeking to grow the world's knowledge. Volunteers are united by a set of principles, not by a profit motive. In recent years, the connections between Wikipedia and more traditional institutions have come to the fore. Can a university engage with Wikipedia to better educate its students, while simultaneously improving its articles? Can a news organization do better reporting through Wikipedia engagement? Can a museum further its reach by improving Wikipedia articles about its holdings? These are the kinds of questions that will push Wikipedia -- and humanity's curation of knowledge -- into a new era.
The event is free and open to the public. Ample free parking is available on Centennial Campus after 5 pm. For directions and more information, click here.
These lectures have been approved by the CSC Graduate Oversight Committee to count toward the required lectures for graduate students.
Return To News Homepage