CSC News
October 27, 2014
Fidelity Investments Speakers Series Presents Jim Goodnight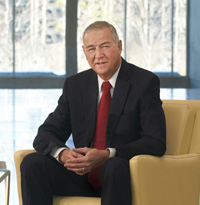 Please join us on November 13, 2014 at 6 pm in the Hunt Library Auditorium for our final Fall 2014 talk in the Fidelity Investments "Leadership in Technology" Speakers Series.
Our special guest speaker will be Jim Goodnight, Co-founder and CEO of SAS. His topic will be "
An Epic Entrepreneurial Journey: How Creating a Unique Culture for Innovation Leads to Unlimited Possibilities
."
Since he co-founded SAS in 1976, Jim Goodnight has served as the company's Chief Executive Officer. The worldwide leader in business analytics, SAS has more than 13,800 employees in 59 countries. The company's 2013 revenue was $3.02 billion, its 38th consecutive year of growth and profitability. Goodnight considers his employees to be his most valuable asset and has created a world-renowned workplace model. SAS recently ranked No. 2 on the World's Best Multinational Workplaces list from Great Place to Work Institute. Goodnight has a Ph.D. in statistics from NC State University and speaks internationally on leadership, education and innovation.
Abstract
: Dr. Jim Goodnight has received media recognition as the "King of Analytics" and the "Godfather of Analytics". As co-founder and CEO of SAS for nearly four decades, his leadership and vision have built a dynamic, world-renowned organization infused with a passion for quality and innovation. As a consistent top honoree on Best Place to Work lists globally, SAS has an incredible record of retaining the best and brightest employees. Join moderator, Keith Collins, Senior Vice President and CIO of SAS, as he engages Dr. Goodnight in a unique "Fireside Chat" experience to share his perspective about how he continues to challenge himself and his employees to stay relevant and continue to forge new trails for analytics.
The event is free and open to the public. Ample free parking is available on Centennial Campus after 5 pm. For directions and more information, click here.
Return To News Homepage