CSC News
August 12, 2014
Fidelity Investments Speakers Series Presents Russ Koste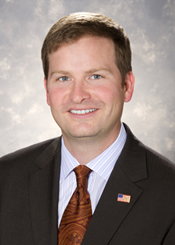 Please join us on September 16, 2014 at 6 pm in room 1231 in Engineering Building 2 for our first Fall 2014 talk in the Fidelity Investments "Leadership in Technology" Speakers Series.
Our special guest speaker will be Russ Koste, SVP, Cyber Intelligence & Operations, of Fidelity Investments. His topic will be "
Get Over It! Embracing the Scale of Cloud: A Cyber Security Practitioner's Point of View
."
Russ Koste is senior vice president of Cyber Intelligence and Operations for the Information Security & Technology Risk (IS&TR) organization at Fidelity Investments. Fidelity is a leading provider of investment management, retirement planning, portfolio guidance, brokerage, benefits outsourcing and other financial products and services to more than 20 million individuals, institutions and financial intermediaries. Koste joined Fidelity in 2013 and is focused on executing its strategic advanced cyber defense initiative and leading the cyber intelligence and operational services that protect the firm.
Prior to joining Fidelity, Koste was the director of Identity, Intelligence and Network Defense for the Information Systems sector of Northrop Grumman. He was responsible for protecting the company's information systems with a full suite of cyber intelligence, counterintelligence and defense in-depth assets and led cybersecurity efforts with the U.S. government to assist the future of network protection for critical infrastructure industries. These included spearheading efforts to promote broad adoption of strong identity and access management standards across the company's vast supply chain. Previously, as director of Identity and Access Management, Koste was responsible for building the aerospace and defense community's first Department of Defense (DOD) interoperable identity infrastructure, OneBadge, an award-winning physical and logical identity solution which was successfully deployed throughout Northrup Grumman.
Koste holds a bachelor's degree in physics from Dickinson College, where he also received a commission in the U.S. Army through the ROTC scholarship program. He served in the U.S. Army's Field Artillery and Signal Corps in Korea and Fort Meade, MD from 1995 to 1999. Koste earned a master's degree in business administration from Carnegie Mellon University.
Koste leads Fidelity's participation in the Securities Industry and Financial Markets Association (SIFMA). Additionally, he has served on several Information Security boards, including the Internet Security Alliance (ISA), the Transglobal Secure Collaboration Program (TSCP) and Utica College's Economic Crime Institute.
Abstract
: What fraction of your annual technology spend are you willing to apply towards information security? Given the size of your firm, what budget does that leave you with? In today's cyber security arms race, few organizations can afford to build/maintain a truly sophisticated security team. To that end, cloud and managed security services are often dismissed as pedestrian. Yet, if done right, these have the potential of bridging the economic divide, offering sophistication to the masses. In an environment that finds the "good guys" outgunned, it's in our collective interest to get this right.
In his talk, Koste will touch on the influencing factors and explore the different perspectives he has had the opportunity to approach this from.
The event is free and open to the public. Ample free parking is available on Centennial Campus after 5 pm. For directions and more information, click here.
Return To News Homepage