CSC News
December 13, 2011
Bronto's Joe Colopy Kicks Off Fidelity Investments Spring Speakers Series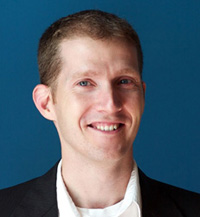 Please join us on January 17, 2012 at 6 pm in Lecture Hall 1231 in Engineering Building 2 (EB2) for our first talk for Spring 2012 in the Fidelity Investments "Leadership in Technology" Executive Speakers Series.
Our special guest speaker will be Joe Colopy, Founder and CEO of Bronto Software. His talk topic will be "From Code to Company: Lessons in Building a Software Company."
Bronto Software is the leading marketing platform for over a thousand retailers and other commerce-focused companies to drive revenue through email, mobile and social campaigns. Colopy has guided the strategic direction of Bronto from a start-up, borne out of his spare bedroom, to becoming one of the 100 fastest growing private software companies in the United States.
Originally from Akron, Ohio, Colopy earned a B.S. in Computer Science from Harvard University and an MBA from the University of North Carolina at Chapel Hill. He has served as a Peace Corps Volunteer in the Seychelles Islands, and a teacher in Guayaquil, Ecuador. Prior to starting Bronto Software in 2002, Colopy's past professional experience has been with market leaders Red Hat, Harvard Business School, and Dell Computer. He has been selected for the Triangle Business Journal's "40 Under 40" Leadership Award and Business Leader's "Triangle Entrepreneur Impact Award."
Abstract
: Colopy will share lessons learned while building a company out of his spare bedroom ten years ago into a successful award-winning software company– entirely bootstrapped without any outside capital. Today, Bronto Software employs over 120 people in more than 20,000 square feet on the American Tobacco Campus in nearby Durham. Bronto was recently named as North Carolina Technology Association's "Software Company of the Year" and as a Triangle Business Journal "Best Place to Work."
The event is free and open to the public. Ample free parking is also available.
~coates~
Return To News Homepage