PhD Student Sina Bahram is working diligently to make computers more useful in our everyday lives, especially to persons with disabilities.
Sina Bahram, a PhD student in North Carolina State's Computer Science department, has potential in the world of computer science that knows no bounds or limits. Many bright, young doctoral students, especially those at NC State, can say the same thing; but Sina Bahram's limitless potential comes in spite of what would, to others, be a substantial setback: he is blind. Instead, he utilizes his experience as a blind student to develop award-winning, innovative advances in technology for persons with disabilities.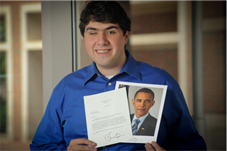 In May of 2012, Bahram was named one of 14 "Champions of Change" at a White House ceremony, honoring individuals who have contributed significant advances to making science, technology, engineering and mathematics (STEM) more accessible to people with disabilities. Bahram was honored for a software framework he developed called "Touch It, Key It, Speak It," or TIKISI, its more popular acronym. The program allows users to access and interact with maps and flowcharts, as well as other graphical information, without sight. The creation of TIKISI is part of Bahram's doctoral work in making interaction with computers easy, intuitive, and available to all users, regardless of functional limitation. (see story here)
"Nowadays, everyone goes straight to the web when they need directions or want to know where something is. So much information, whether in school, at work, or just reading the news, is presented in bar charts and graphs," Bahram said "I began thinking about how to make graphical information available in an eyes-free fashion, which became TIKISI. It not only has broad implications for the blind and those with low vision, but also for people who need information while driving but can't take their eyes off the road to read their GPS. It can truly be useful for anyone."

"So much of what I have been able to do is because of NC State," he said. "The thing that sets NC State apart is that the professors don't teach a specific technology, they teach us to learn any technology… They teach students how to learn and that is a very valuable skill set."
While born legally blind, Bahram had more vision as a young boy than he does an as an adult. At age eight, while playing tennis against a backboard, he was hit in the head by the ball, causing his retina to become detached. As a result, he has some light perception in his left eye but none in his right.
Even as a child, this setback did not deter him. "My parents always had a very positive outlook and my dad always challenged me," he remembered. "If I brought home an A, he'd praise me for my accomplishment but also encourage me to make it an A+ next time. My parents are all about improving and getting better from where you are." In fact, Bahram's parents themselves overcame great obstacles to move to the United States when Bahram was only three, opening up worlds of opportunity for Bahram and his two siblings. Sina says of his outlook on life, "I realized when I was young that I could be sad about my situation or I could do something positive. I chose the latter."
His first exposure to computers was sitting beside his brother at the age of six, chin in hand for hours on end, watching him work. As a result, he became proficient in computing himself and would often stay up into the night solving a problem, learning a new programming language, or making a website.
"When I was in middle school and high school, the Internet was like the wild wild West," he said. "Everyone was new to it and there was so much to learn. My parents would find me in my room in the morning working on my computer, after having stayed up all night, totally focused on what I was learning at the time."
With all this experience and drive, it would be a given that Bahram would be readily accepted into a major university, right? Wrong.
"High school is actually very difficult for students with disabilities because the information is not always 100% transferrable from what the teacher said in class," Bahram said. "While there are so many hardworking, well-intentioned people working on getting information translated for the blind, there are mistakes and that makes for a very difficult educational experience for a blind student."
Not one to make excuses, Bahram now uses his high school experience as fuel for his future endeavors of improving human-centric computing.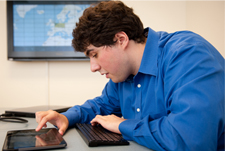 "It keeps me really passionate about the work I am doing with TIKISI," he said. "If we can help people with limited sight explore maps on their own, then they are learning it firsthand and are not dependent on someone else's translation or explanation."
Accepted at NC State as a lifelong learning student at first, Sina's talents were quickly realized and soon he was a full-fledged student in the computer science curriculum. Since his acceptance, he has soared to great heights as an award-winning student, earning first a bachelor's and then a master's degree in Computer Science.
"So much of what I have been able to do is because of NC State," he said. "The thing that sets NC State apart is that the professors don't teach a specific technology, they teach us to learn any technology. They give students the skills to learn five other computer languages that they will have to learn on the job. A lot of colleges teach specific computer languages, so when the recession hits and jobs need you to know specific technologies or programming languages, you are out of luck. Because of my professors at NC State, if I have to learn a 13th programming language on the job or for a client, then I can. They teach students how to learn and that is a very valuable skill set."
Bahram also had high praise for the faculty at NC State. "The faculty at NC State is extremely approachable and willing to help and I had some phenomenal professors that went way beyond what they were required to do to help me learn what was discussed in the lectures, because so much of that is visual. This positive and inclusive attitude about accessibility can also be seen at the highest levels of NC State's IT organization," he said. "The University IT Accessibility Coordinator Greg Kraus is awesome. He is truly passionate about making technologies accessible system-wide for faculty, students, and staff of all abilities. At NC State, they are not just talking the talk about inclusiveness-they are walking the walk. In fact, a couple of years ago I advised another blind student to go to NC State because of my positive experience here."
Sina Bahram continues to work diligently to make computers more useful in our every day lives, especially to persons with disabilities. It is clear to all who interact with this extraordinary young NC State researcher that new and exciting possibilities are just around the corner.