Wouldn't it be great if you could check your computer to see exactly where your bus is along its route before you walk out the door?
Thanks to this Computer Science grad, NC State Wolfline riders… and bus riders all over the country… no longer need to wonder if they missed the bus!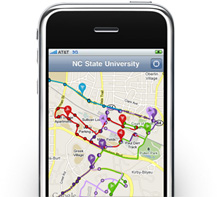 According to Josh Whiton, the idea came to him as a student. "Here I was, sitting at a computer in my class… then I would leave my computer to stand outside and wait an indeterminate period of time for the bus." He realized there should be a system for checking the bus routes so that he could time his arrival at the bus stop with the actual arrival of the bus. And so was born the idea for Transloc, a Transit Visualization System (TVS) that displays real-time where your bus is along the route.
Josh graduated from NC State with a Bachelor's degree in Computer Science in 2004. He knew he was driven to entrepreneurship and inventing. "In one sense it is the classic story of investing one's life savings and assuming a lot of risk. In another sense, entrepreneurs don't see risk the same way. For me, risk would have been to put my hope in a giant company where I had little to no control. This was a far less risky way to live, though to others, this is more terrifying."

"It is difficult to narrow down the great things about being the CEO of a successful company that I started, but for me, it provides a growth opportunity that few other jobs could have provided."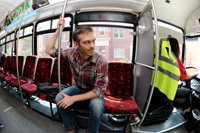 Josh is always looking for new ideas and always has been. "For a long time, I've had the habit of keeping a list of ideas that could potentially become products or companies. And while in college, I started looking ahead to how I could support myself and give life to these ideas as well. The idea to track the campus bus system just made more and more sense as I researched. It helps students and involves technologies and skills that I, as a computer scientist, ought to be able to leverage."
Not one to believe that engineering is limited to electronics, Josh embraces the mindset that technology is the application of knowledge in practical ways. He is an active voice for ecological change. He has started a community garden in Raleigh, promoting self-sufficiency and personal responsibility.
"Just like I would prune out unnecessary code so that a program runs more efficiently and effectively, I also want to prune out wasteful habits in human life. I want to wield all technology: social, scientific, what have you. It's a mind-blowing, elegant solution to the world's problems. I want to effect change and I know I can."
Josh capitalizes on every minute of life. He has combined his awareness for the need for global changes and personal responsibility with his entrepreneurial spirit across multiple arenas technology, transportation, and ecology. He looks at the world around him, identifies opportunities for improvement, and finds a way to bring about change. And Josh challenges others to do the same and more.
"The adults in charge of the world right now, don't really know what is best for the world - even though we think we do. We need [young people] to not take our word for things… for how the world should look. Be as independent in your thinking as you can be… look at the challenges we face with fresh eyes and a new perspective and do whatever it takes!"
Note: It's just been recently announced that the TransLoc iPhone App is now available in the iTunes App Store. This free application should be well received by the quarter-million riders who access TransLoc's TVS Mobile every month, because about half access TVS from an iPhone or an iPod Touch. The app allows faster loading of the map, viewing of multiple routes, and geolocation features for the iPhone, iPod Touch, and the iPad.