A Computer Science grad who owns his own company and shapes the careers of professionals in the gaming industry!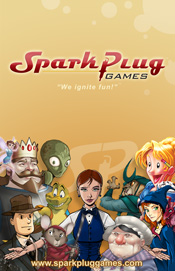 In high school, John O'Neill had no idea what he wanted to do when he graduated from college. He chose NC State for the diversity that the computer science program offered. He knew that this program would introduce him to a lot of facets of the computer industry and follow that up with the opportunity to explore them.
The desire to start his own company came after working as a programmer for a few years with another gaming company. He learned two very important things about himself during that time: "First, I enjoyed interacting with non-technical people… using my technical knowledge to explain things in ways that they could understand. And second, I found that I enjoy challenging myself at something I've never tried before."
O'Neill is now the CEO and founder of Spark Plug Games, a leading independent games developer creating games and educational products for Windows, Macintosh, and the iPhone market. He continues to do some programming, but most of his day is spent keeping the distractions away from his team.
"I saw how companies were run by other people and I thought: why can't I do that? It is scary… jumping into the great unknown. You have to take chances and challenge yourself to see what you can achieve. For me, success or failure - I love the journey."
"I feed off the passion of the people who work for the company. I love that our diverse group of employees builds successful products together.… I get a sense of satisfaction in enabling and empowering people to succeed. It is not just the artist or the designer or the programmer doing an independent job. It's a collective experience."
O'Neill earned his Bachelor of Science degree in Computer Science from NC State in 1996, and he remains actively involved with the department. He is a member of the Computer Science Department's Strategic Advisory Board and is teaching a gaming class in the fall of 2010.
As a matter of fact, John was the keynote speaker at the Spring 2010 Computer Science Department Diploma Ceremony. He loves the opportunity to encourage students. Just like the employees he works with each day at his company, he finds it important to encourage passion and drive and help people succeed.