Making a difference in the lives of students
Jennifer Sabourin took her interest in teaching and her passion for research and has been working on a program to give students a one-on-one tutoring experience with computers that is more personal… a more interactive experience that compares with working one-on-one with a teacher. She is making a difference in the education of young people.
In high school, Jennifer's interests were math and psychology. She thought that she would go to college and eventually return to the school system to teach. It wasn't until her mother convinced her to take a high school Computer Science class that she truly saw where her interests could possibly lead.
"Computer science is a very unique field in that you know it is not going away – it is the future. You can combine it with other interests: computer science and music; computer science and gaming; anything. You can use the degree and make it your own. NC State has a lot of programs geared toward those different things. You can tailor your education to find your own individual niche."
"My mom encouraged me to take a computer science class that I never would have tried on my own. And I loved it!"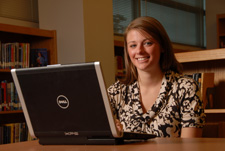 Jennifer earned her bachelor's degree in computer science from NC State with a minor in psychology and is currently a candidate for her PhD. She has tailored her ongoing computer science education at NC State to research and education, opting to take classes on interesting topics such as artificial intelligence (AI) and data mining. Her studies in AI are at the core of her current work developing an intelligence-based tutoring system.
Jennifer is a problem solver: she identified a need and found a solution. She has successfully married all aspects of her education (computer science and psychology) and interests (AI, research, and education) with a hands-on way to affect change and make improvements in education; i.e., personalized computerized tutoring.
"I enjoy working in an industry where you think to yourself: 'wouldn't it be cool if…' and then you go and pursue that 'if'. You pursue questions for their answers. It affords freedom and creativity."