A Computer Science Grad in the World of Finance
Computer science impacts every industry in our society. Companies have to adapt their business models to allow clients the ability to leverage technology in a way that is functional, yet safe and secure.


While still a student at NC State, Charles D'Andrea, a 2010 computer science graduate, attended the College of Engineering Career Fair. He did not expect to see Fidelity Investments, a financial services company, but he checked it out anyway. And he's glad he did.


After being hired, he took part in their 6-month, in-house training program. His first project was to join the team that was developing an app for the iPad, something he had been interested in before he joined the company. The firm introduced the iPad app in August 2010 and Charles has moved on to other projects.

"Technology really changes quickly. In just my first few months at Fidelity Investments, I was offered a number of opportunities to present new ways of doing things."
Charles is part of the internal software development team at Fidelity Investments. He helps develop tools that support the changing needs of investors.
"I feel like I was well prepared coming out of NC State. Getting to know other students, the professors, and the faculty….taking part in all the on-campus opportunities like ACM/AITP (the student chapters of the Association for Computing Machinery/Association of Information Technology Professionals)… these are the things that rounded out my resume and contributed to who I am now as a professional. It all gave me an edge. Companies are looking for the next wave of leaders."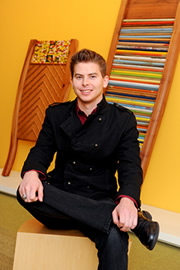 Charles joined ACM/AITP as a freshman and spent his junior and senior years as a co-president. For Charles, beyond the networking, the socializing, and the technology, there was sense of social responsibility. The organization's Geek-A-Thon put his technical skills to work refurbishing old computers to give away to underprivileged middle school students.
"Professionally, it is good to know that your work helps people; the work we do helps us better serve our customers. But working with the Geek-A-Thon gave me a chance to look someone in the eye and see that I had done something good for him."


This is an exciting time for Charles. He credits his opportunities and experiences in the NC State Computer Science department with his easy transition into "Corporate America". He likes knowing how his work is being used and knowing that his efforts are making a difference in serving customers better.


Charles makes sure to bring back to NC State the same opportunities that were presented to him. At this year's College of Engineering Career Fair, Charles was on the other side of the table, this time representing Fidelity Investments. He spent the day encouraging students to get involved in student organizations while in college, and reminding them that every industry has a place for a computer scientist!
ALUMNI UPDATE!
After leaving Fidelity in November of 2011, Charles D'Andrea began working for Vanguard, an investment advisor in Charlotte, North Carolina.
He began as a technology specialist who moved across different teams playing a few different roles that gravitated towards project management. Much of his work consisted of many different vendor applications particularly around marketing, specifically targeting the marketing technology.
In July of 2018, D'Andrea took his current position as IT Project Team Manager. Here, his team is responsible for building out a shareable user interface library. This library allows development teams across the company the ability to quickly deliver brand new applications and experiences without developing everything from scratch.
"We make sure that the components we built are reliable and that the branding theme for each component is consistent and accessible," says D'Andrea.
In his leadership role, he has seen his mindset change from a developer to that of a manager and team leader. In this new position, he is able to pull from his developer knowledge to manage his team in a meaningful way.
D'Andrea credits his time at NC State for giving him his earliest leadership opportunities that set a foundation for his future role at Vanguard. He served as a leader on student organizations that developed skills he often turns to in his newfound role.
"It was definitely a leg up starting in the corporate world to have that experience and know common pitfalls," says D'Andrea. "That self-starter attitude and ability to make decisions independently was something that's very important on top of all that communication abilities."
Throughout his time at Vanguard, D'Andrea has seen personal growth as a developer and a leader.
"Vanguard is a unique place with a client centric-culture," says D'Andrea. "I have been able to grow my career here and I'm looking forward to growing it further."