Computer Science eNewsletter
Below is department related news, gathered from a variety of sources across campus, provided monthly for alumni, students, and friends of the Department of Computer Science at NC State University.
If you are a CSC alum and wish to be added to the email distribution list, click here. Corporate or individual friends of the department may be added to our distribution list by sending an email request to Ken Tate, Director of Development & External Relations for the NCSU Department of Computer Science.

---
June 30 , 2008
On Demand – NC State Now Has a Dedicated YouTube Channel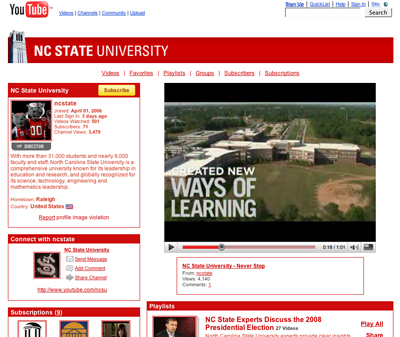 From celebrities on campus to Tinkertoy-based lesson plans, an eclectic mix of videos highlighting all things NC State is now just a mouse-click away, with the unveiling of the university's official YouTube channel. more
Sollenberger Selected to Participate in MTA Program
Congratulations to Derek Sollenberger, doctoral student in computer science, who was recently selected to participate in the Mentored Teaching Assistantship (MTA) Program sponsored by the NC State College of Engineering. Sollenberger will participate in the program in the fall semester with the support of his mentor, Dr. David Thuente, computer science professor and director of graduate programs. more
Castillo, Rouskas & Harfoush Win Best Paper Award
Congratulations to Claris Castillo, computer science doctoral student, Dr. George Rouskas, professor, and Dr. Khaled Harfoush, assistant professor, who's co-authored paper entitled, "Efficient Implementation of Best-Fit Scheduling for Advance Reservations and QoS in Grids," was recently recognized with the best paper award at the fourth IFIP/IEEE International Workshop on End-to-end Virtualization and Grid Management. more
STARS Student Leadership Corps for 2008-2009 Announced!
We are very pleased to announce the acceptance of 14 undergraduate and graduate students as participants in the 2008-2009 Students and Technology in Academics, Research, and Service (STARS) initiative. more
Departmental Research Grants, Gifts, and Support
Fujitsu Transactions Solutions has donated $5,000 in support of the department's Senior Design Center.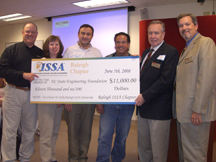 The Raleigh chapter of the Information Systems Security Association (ISSA) has donated $11,000 to the department in support of the Charles W. Kelly / ISSA Scholarship Endowment. more
Congratulations to Dr. Injong Rhee, associate professor of computer science at NC State University, who recently received an equipment donation from the Cisco Collaborative Research Initiative valued at over $340,000." more
Dr. Tao Xie, assistant professor, has received a Research Experience for Undergraduates (REU) supplement valued at $6,000 from the NSF to support his proposal "CT-ISG: Collaborative Research: A New Approach to Testing and Verification of Security Policies." The funds can be used to support an undergraduate student (US citizen only) who will be an active member in the research.
Dr. Robert Fornaro, director of the Senior Design Center and professor of computer science at NC State University, has been awarded $20,000 by the NC State Faculty Research and Professional Development (FRPD) fund to support his collaborative research proposal titled "Using Wireless Sensor Networks to Determine Spatial and Temporal Relations between Cattle and Wildlife." more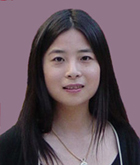 Dr. Helen Gu, assistant professor of computer science at NC State University, has been awarded $6,000 by the NC State Faculty Research and Professional Development (FRPD) fund to support her research proposal titled "Automatic 24x7 Health Management For Large-Scale Virtual Hosting Infrastructure." more
CSC Faculty / Staff News
Dr. Robert M. Kolbas has accepted a one-year appointment as the Interim Head of the department of Electrical and Computer Engineering effective July, 1, 2008. The intent will be to conduct a national search during 2008-09 for a permanent department head who will assume the position in fall 2009.
CSC "Jobs List"
If you are a CSC student or alum and would like to receive an automatic email notice whenever new postings are activated on the CSC online jobs board, you are invited to subscribe to the cscjobs list. We may also use the list to announce career fairs, company campus visits & info sessions, and other career related events and activities. This is an "opt-in" list, so you must subscribe to receive the notices. Students can subscribe via the Subscribe Interface at http://lists.ncsu.edu/cgi-bin/mj_wwwusr (type cscjobs in the Mailing List box and press Search) or by sending an email to: mj2@lists.ncsu.edu (leave Subject Line blank), in the body of the message type subscribe cscjobs, and then send your message. For more information about subscribing please check http://lists.ncsu.edu/.