CSC News
June 06, 2008
ISSA Expands Support for Scholarship Endowment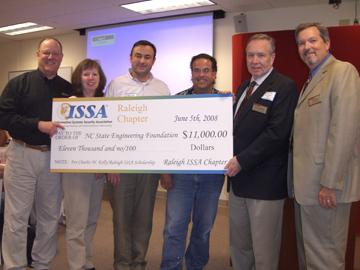 The
Raleigh chapter of the Information Systems Security Association (ISSA)
has donated $11,000 to the Department of Computer Science at NC State University in support of the
Charles W. Kelly / ISSA Scholarship Endowment
.
The current value of the endowment is approximately $27,000.
Namesake,
Charles "Chip" Kelly
and leaders of the local ISSA chapter were on hand to make the check presentation during their June meeting held at EBII on Centennial Campus.
The scholarship endowment honors Mr. Kelly, the founder of the Raleigh ISSA chapter, and makes an annual award to a qualified junior or senior with a demonstrated interest in working in the field of computer security.
This year's student award winner,
Andrew Dale Austin
, was also in attendance and honored during the session.
Individuals or corporations interested in contributing to this fund should make their donations to the "NC State Engineering Foundation" noting for the "Charles W. Kelly / Raleigh ISSA Scholarship Endowment" in the memo section. Donations can be sent to the NCSU Department of Computer Science, Campus Box 8206, Raleigh, NC 27695.
Return To News Homepage