CSC News
March 29, 2010
Gehringer Receives Award to Study Student-Authored Textbooks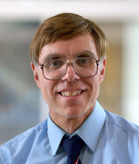 Dr. Edward Gehringer, associate professor of computer science at NC State University, has been awarded $110,518 by the National Science Foundation (NSF) to support his research proposal titled "Production and Assessment of Student-authored Wiki Textbooks."
The award will run from February 15, 2010 through January 31, 2011.
Research Abstract: Recent research shows that students are capable of writing a peer-reviewed textbook for their own course. The pedagogical advantages are numerous. Instead of being merely the consumers of knowledge, students become co-producers. This forces them to learn the material in greater depth, and to reflect upon it more frequently. The natural medium for creating such a textbook is a wiki, because it standardizes the format and makes it easy to edit parts of a larger work. This project is building a software system to manage creation and peer review of a wiki textbook, automating features such as rubric creation by students, double-blind feedback between author and reviewer, quality-control strategies for student peer reviews, and support for flow management to allow different chapters of the text to be written and reviewed at different times during the course. It promises to bring wiki textbook-writing to a much wider audience.
The project addresses several high profile needs in American education. Students hone composition skills writing for authentic purposes and audiences. Peer reviewing fosters critical analysis and teaches them how to provide meaningful feedback. The project is socially relevant, as Wiki textbooks are freely available to a global audience, helping to combat the problem of rising textbook costs. The project has the potential to benefit at-risk students, since students receive feedback while they still have a chance to improve their work. This helps nontraditional students stay on task, and typically offers the most benefit to students who underperform as measured by exams and standardized tests.
For more information on Dr. Gehringer, click here.
~coates~
Return To News Homepage