CSC News
March 10, 2010
Strachan Named to ACC Women's Basketball All-Academic Team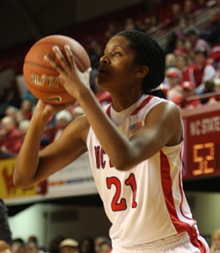 Brittany Strachan, a senior majoring in computer science at NC State University, has been selected to the 2009-2010 ACC Women's Basketball All-Academic Team.
Strachan and teammate Marissa Kastanek, a freshman majoring in psychology, are representing NC State on the team. They are two of only 16 student-athletes from eight schools named to the team. To be eligible for consideration for the academic squad, a student-athlete must have earned a 3.0 grade point average for the previous semester and maintained a 3.0 cumulative average during her academic career.
Strachan excels both on and off the court. She is the top scoring reserve for the NC State women's basketball team this season, averaging 7.1 points and 3.4 rebounds per game. She leads the ACC in three-point shooting with a 42.4 percent (39-92) shooting average.
For more information about the 2009-2010 ACC Academic Women's Basketball Team, click here.
(Photos courtesy of Karl DeBlaker.)
~coates~
Return To News Homepage