CSC News
March 01, 2010
Young Named 2010 GSK Faculty Fellow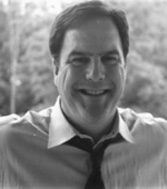 Dr. R. Michael Young, associate professor of computer science at NC State University, has been named a 2010 GlaxoSmithKline (GSK) Faculty Fellow by the Institute for Emerging Issues (IEI).
The IEI is a public policy, think-and-do tank that convenes leaders from business, nonprofit organizations, government and higher education to tackle some of the biggest issues facing North Carolina's future growth and prosperity. Through research, ideas, debate and action, the IEI prepares leaders to address the state's future challenges and opportunities.
The GSK Faculty Fellows Program helps inform and improve decision-making on state and local issues by utilizing the expertise of faculty in our state. The sixteen institutions comprising the University of North Carolina System, the state's community colleges, and the private universities and colleges of North Carolina represent a vital asset as our state prepares to meet the challenges of the 21st Century. The mission of the GlaxoSmithKline Faculty Fellows Program is to provide the incentive, mechanisms and support for faculty to apply their expertise to current public policy issues.
Faculty Fellow activities include everything from writing opinion pieces for North Carolina newspapers, to shaping IEI's programs of work, particularly focusing on creativity this year, and offering expert advice to policy-makers.
For more information on Dr. Young, click here.
For more information on the GSK Faculty Fellows Program, click here.
For more information on the IEI, click here.
~coates~
Return To News Homepage