CSC News
February 19, 2010
Samatova Receives Research Funding to Study Metabolic Processes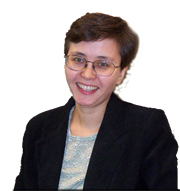 Dr. Nagiza Samatova, associate professor of computer science at NC State University, has been awarded $454,311 by Oak Ridge National Laboratory – UT Battelle (US Dept. of Energy) to support her research proposal titled "Ultrascale Computational Modeling of Phenotype-Specific Metabolic Processes in Microbial Communities."
The award will run from January 15, 2010 to January 14, 2013.
Samatova will collaborate with Dr. Anatoli Melechko associate professor or materials science and engineering at NC State University.
Abstract – Ultrascale computational modeling methods will be developed for revealing phenotype-specific metabolic processes and their cross-talks and applied to the critical DOE problem of acid mine drainage (AMD). The apex of the project will be a systematic and iterative computational procedure for: (1) identification and expression-level characterization of phenotype-related genes; (2) reconstruction of phenotype-specific metabolic pathways enriched by these genes; (3) elucidation of the symbiotic and/or competing interplay between these pathways across species; and (4) characterization of evolutionary and environmental adaptation of the community.
For more information on Dr. Samatova, click here.
~coates~
Return To News Homepage