CSC News
February 02, 2010
Alumnus Kulkarni Named Assistant Professor at Purdue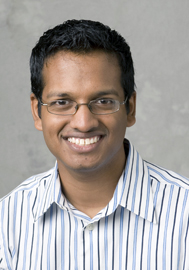 Congratulations to NC State Computer Science alumnus, Dr. Milind Kulkarni, who was recently named as an assistant professor with the School of Electrical and Computer Engineering at Purdue University.
Kulkarni received his B.S. in both Computer Science and Computer Engineering from NC State University in 2002. As an undergraduate, he was a Park Scholar, a University Scholar, and a member of the Phi Kappa Phi honor society.
Kulkarni completed both his master's degree and his Ph.D. in computer science at Cornell University. While pursuing his Ph.D., he was supported by a Department of Energy High Performance Computer Science (HPCS) Fellowship, which included a practicum at Lawrence Livermore National Labs.
Prior to joining the faculty at Purdue, he served as a postdoctoral research associate at the Institute for Computational Sciences and Engineering at the University of Texas at Austin, where he worked with the Intelligent Software Systems (ISS) group.
At Purdue, Kulkarni's research focuses on developing languages, compilers and systems that can be used to effectively parallelize applications for multicore processors. He is also interested in studying parallelism in irregular programs, and the performance analysis of parallel programs.
He joins fellow NC State Computer Science alumnus, Charles 'Chip' Killian (info), also on the faculty at Purdue University.
For more information on Dr. Kulkarni, click here.
~tate~
Return To News Homepage