CSC News
February 02, 2010
Department Congratulates Three "Pride of the Wolfpack" Award Winners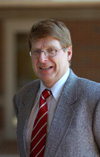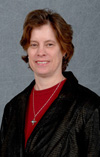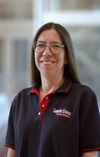 Three members of the NC State University Department of Computer Science have been selected as recipients of the "Pride of the WolfPack" Awards.
Dr. Barbara (Jasmine) Adams, Director of Undergraduate Advising, Ms. Ann Hunt, Contracts and Grants Manager, and Dr. David Thuente, Professor and Director of Graduate Programs (pictured left to right), were recognized for the month of September, 2009.
The awards are designed to recognize NC State employees for a special or unique contribution to their college/unit or the University. Criteria for the award include: leadership on the job, customer focus, and quality of service.
Adams was recognized for her efforts to ensure that students are prepared to succeed in the computer science discipline, per her nomination: "Dr. Adams has worked tirelessly to ensure that students carefully plan their course of study and take responsibility for their decisions while here at NCSU…More directly, ensuring that incoming freshmen are properly placed within required course sequence based on high school courses and prior programming experience…"


Hunt was recognized for her willingness and ability to take on additional responsibilities while ensuring that the department is covered in all aspects of the accounting function, per her nomination: "Ann was serving as our Business Officer for the department, and when our Contracts and Grants Manager left this past April, Ann undertook the additional responsibility of handling this job function…During this budget turmoil for the last six months, she has been one to keep the personnel advised in the department of the current guidelines, and what we could and could not do."
Thuente was recognized for his excellent leadership of the Graduate Program, per his nomination: "Dr. Thuente has demonstrated excellent leadership not only in expanding the size of the program (currently over 400 students) but also in improving its quality across the board. He has worked closely with our large number of students bringing a high-level customer focus to the graduate program staff. He has mentored faculty in graduate advisement. He has led the department in making several enhancements to the program."
Congratulations to all of you, and thanks for all your hard work and dedication to the Computer Science Department and the College.
~coates~
Return To News Homepage