CSC News
January 14, 2010
Poulos Wins BrainTrack Scholarship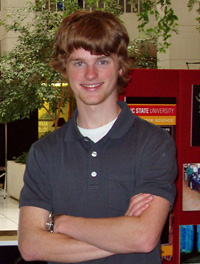 Alex Poulos, a junior majoring in Computer Science at NC State University, recently won the Fall 2009 BrainTrack Computer Science Degree Scholarship.

In his essay, which earned Poulos the $1,000 first prize, he provides his peers several valuable nuggets of wisdom. "Nurture your curiosity! Well trained curiosity could prepare you for your next job, without you even knowing it." He continues by saying, "I have my current internship largely because of extracurricular exploration with Linux and Java in high school." He credits his father with inspiring him to pursue a degree in computer science, and values the impact that the discipline has on every facet of our lives. "Computers have revolutionized everything from health care in the developing world to bible study."
The BrainTrack Computer Science Degree Scholarship gives a winning ($1,000) and second place ($500) award every semester, and is designed to help students currently pursuing a computer science degree. Entrants must respond to essay questions that are geared toward helping people evaluate computer science as a potential career path. Through these essays, the scholarship program is designed to be a resource for future students considering such fields as programming, software engineering, systems analysis, database administration, network administration, systems administration, network analysis, and communications analysis.

Winners are selected based on the creativity, focus, overall thoughtfulness, accuracy, and practical value of their responses to these questions, and are chosen by a committee made up of independent judges familiar with computer science as well as BrainTrack staff. BrainTrack publishes those essays that prove most helpful to future students on their website.

To view Poulos' winning essay, click here.

For more information about the BrainTrack Scholarship, click here.
~coates~

Return To News Homepage