CSC News
December 21, 2009
120 Receive Degrees in Fall Diploma Ceremony
The NC State Department of Computer Science conferred 120 degrees during the Fall Diploma Ceremony on December 19, 2009. The threat of bad weather did not deter several hundred relatives and guests from celebrating with our graduates, faculty and staff during our ceremony held at Providence Baptist Church in Raleigh.

This graduating class included 18 Ph.D., 66 M.S., and 36 B.S. degrees expanding the department's alumni base to over 6,000.

The undergraduate class included one Valedictorian (perfect 4.0 GPA), Philip A. McClellan II; one Computer Science Honors Program participant, Andrew D. Austin; two University Honors Program participants, Scott R. Pecnik and Justin W. Smith; two University Scholars, Derek J. Brown and Anish Sukumaran, and numerous members of a variety of scholastic honor societies.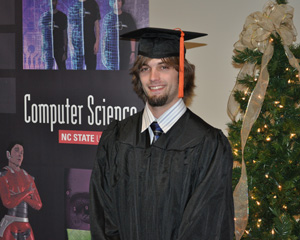 The department celebrated two "firsts" during this ceremony. Garrett Sewell is the first student to graduate in the computer science game development concentration. Established in 2008, this concentration allows students to develop an understanding of the scientific and technological principles associated with the design and development of computer and console games for both entertainment and serious games. Sewell produced games as part of his curriculum including a multi-player mini-golf game for PCs. He interned for a game development company, and started part-time work this fall for Entrinsik, Inc. He accepted a full-time position as a quality assurance and support programmer at Entrinsik beginning in January 2010.

Dr. Sarah Heckman, who received her Ph.D. during Saturday's ceremony, joined the Department of Computer Science in August as the department's first Teaching Assistant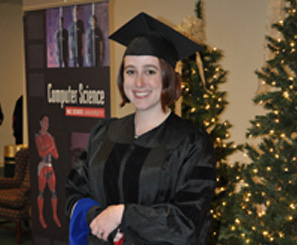 Professor. Her focus is on undergraduate teaching and learning with research interests in educational technology and software engineering. She is a three-time graduate of the department after receiving her B.S. in Computer Science in May 2004, her Masters of Computer Science in May 2005, and her Ph.D. in Computer Science in August 2009. Heckman has been very active while a student at NC State including serving as president of the Women in Computer Science (WICS) student organization, an officer-at-large in the Computer Science Graduate Student Association, and the graduate student representative on the Computer Steering Committee. She won the 2008 Joyce Hatch Service Award, and is a three-time recipient of the IBM Ph.D. Fellowship.

Dr. Mladen Vouk, department head, professor, and Associate Vice Provost for Information Technology, congratulated the graduates on their accomplishments. He cited recent projections of growth in career opportunities in the IT and computer science industries.


We were honored to have alumna Suzanne Gordon (B.S. '75, M.S. '80), serve as our keynote speaker. Gordon is the VP, Information Technology and Chief Information Officer at SAS Institute in Cary where she oversees the IT infrastructure and support services that form the cornerstone for SAS' successful software development and sales efforts. Gordon was elevated to CIO from Vice President of the SAS Information Services Division (ISD) in 2003, the same year she was named a ComputerWorld Premier 100 IT leader.

A graduate of NC State with bachelor's degrees in math and computer science and a master's degree in statistics, Gordon maintains close ties to the university. A member of the board of trustees, she has also served on the alumni association board and the College of Management Advisory Board. Gordon, a frequent speaker and mentor to women pursuing technical careers, is also active in a medical ministry that provides services to low-income individuals.

In her address to the graduates, Gordon used a mnemonic device, "WOLFPACK", to help prepare graduates for success: W – win-win (think positively); O – observe and listen; L – be lifelong learners; F – be flexible; P – practice perseverance; A – ask questions; C – be prepared for change; K – care and community.

Special entertainment was provided by local musician, Brian Megilligan.

Our special thanks go to Red Hat, our ePartners Program, its participating corporate sponsors, and the NC State Engineering Foundation for their generous sponsorship of this event.
~coates~

Return To News Homepage