CSC News
December 08, 2009
Perros Honored as IEEE Fellow for Achievements in Networking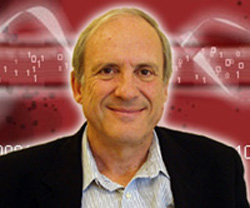 Since 1982, Harry Perros has been a major part of the Department of Computer Science at NC State University. Now, the Institute of Electrical and Electronics Engineers (IEEE) has honored him by voting him an IEEE Fellow for his contributions to performance evaluation modeling of computer networks.

Perros becomes the department's fifth IEEE Fellow, following in the footsteps of Drs. Donald Bitzer, Wushow "Bill" Chou, Mladen Vouk and Munindar Singh, who were selected in 1982, 1987, 2001, and 2008 respectively.

"I'm very excited about it," says Perros. "It requires a lot of work to even get nominated, and there are still a lot of talented people out there I hope to see recognized."

Perros, a native of Greece, serves as a Professor of Computer Science, an Alumni Distinguished Graduate Professor, and the Program Coordinator of the Master of Science degree in Computer Networks at NC State.

He holds a B.S. degree in Mathematics he received in 1970 from Athens University in Greece, an M.S. degree in Operational Research with Computing he received from Leeds University, England, in 1971, and a Ph.D. in Operations Research he received from Trinity College Dublin, Ireland, in 1975. His work includes authoring three textbooks, along with the 2002 e-book Computer Simulation Techniques – The Definitive Introduction, which is free for downloading.

He's specialized in working with networks for the last 20 years, and has done groundbreaking work in the field of Asynchronous Transfer Mode (ATM) networks and Optical Networks. His latest research has been in the field of network services, where he has focused on defining and figuring out the best way to deliver new services.

"This is a new area for me," Perros says. "I've been working on it for a while, and I hope to make some major contributions in the future."

His proudest achievements at NC State are introducing new courses and several new textbooks, along with developing the master's degree in computer networks. He also loves to work with graduate students and over the years he has graduated many Ph.D. students.
Perros has seen many changes since he started working in the computer science department at NC State. "When I was here in 1982, we didn't even have a Ph.D. program," he says. "It's been amazing to see it expand, with new buildings, programs, and many new faculty."

Perros says that networks will continue to play a major role in our lives in the near future. "The technology will keep evolving," Perros says. "It's faster, we have more things to play with. It's difficult to determine in the networking world where things will be in the future, because it's very volatile, but I think we will see many new services evolve. For example, you could be videoconferencing with five people at once over different networks while you are going from home to the car to your office – doing personal and professional business all at the same time."

In his spare time, Perros enjoys sailing and playing the bouzouki, a Greek musical instrument. He remains tightly connected to NC State, with his wife, Helen, teaching part-time in the History department, and both his sons have graduated from NC State. As for his own work at State, "I think I'll stay another 27 years," he says with a laugh. "My health is good."

For more information on Dr. Harry Perros, click here.

For more information on the IEEE Fellow Program, click here.
~smith~

Return To News Homepage