CSC News
November 17, 2009
NC State Computer Science Department Now on iTunes U
With the official launch of the NC State iTunes U channel, the NC State University Department of Computer Science is now able to provide an extensive portfolio of content on iTunes U. iTunes U is a part of the iTunes Store featuring free lectures, language lessons, audiobooks, and more, that you can enjoy on your iPod, iPhone, Mac or PC.
Accessing this catalog of continually updated content is simple. Just launch your iTunes application, select iTunes Store, and select "iTunes U" from the upper menu bar options. Then select "Universities and College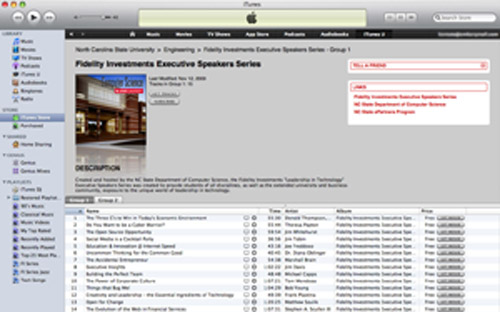 s" from the iTunes Quick Links in the upper right hand corner for an alphabetical listing of schools on iTunes. If you are not currently an iTunes user, you can download and install it by clicking here.
The Computer Science Department content is located within the College of Engineering channel under NC State. We currently have three active channels:
Fidelity Investments "Leadership In Technology" Executive Speakers Series – contains videos of most of the lectures presented since the beginning of the series in 2007. Speakers include the likes of Michael Capps of Epic Games, Marshall Brain of "How Stuff Works.com," Jim Whitehurst of Red Hat, and more.
40th Year Celebration - contains video clips and slideshows from the fall of 2007 when the Department of Computer Science celebrated its 40th anniversary.
Digital Games Research Center's (DGRC) "Future of Games" Speakers Series – contains video of local and national leaders in the research and development of computer games, each discussing his or her vision for game development over the coming decade and beyond. This series is hosted by the NC State Department of Computer Science and the Digital Games Research Center.
Plans are to add more channels and additional content in the coming months.
For more information on iTunes at NC State, click here.
~coates~
Return To News Homepage